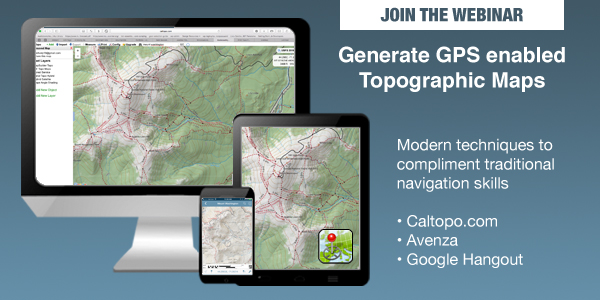 Map Building in the 21st Century
Traditional navigation techniques using map, compass, altimeters and other navigational tools are vital to safe recreation in the backcountry. But in the 21st century, the age of technology, there are extremely powerful, digital tools that supplement traditional practices. This webinar utilizes Caltopo.com, Avenza and Google Hangout to put you in the driver seat to building enhanced maps and unlocking new terrain. This three-part series will blow your mind and enable you to virtually transport to far away destinations, from the comfort of your home.
---
WEBINAR DETAILS
Commitment: 1-3 Sessions
Approx. Length: 2.5 hrs each
REQUIRED CAPABILITIES
Technology: Computer, Smart Phone
Programs & Apps: Internet access, Avenza App, Google Hangout, Microsoft Excel*
PRICING
1 Session: $59 each
3 Session Bundle: $139
SESSIONS START AT 6PM
Session 1: Thursday, December 8
Session 2: Thursday, December 15
Session 3: Thursday, December 29
SESSION 1
Building Enhanced Maps and Interfacing with Avenza PDF
Generate GPS enabled, topographic maps of any location in the world
Import and Export .gpx and .kml files
Customize the look and feel of their maps to suit their desired needs
Share maps with friends and family instantly
Instructional Objectives
Introduction to Caltopo.com
Discover map layers and customization
Adding identifying markers, images, etc.
Importing and exporting .kml and .gpx files
Print to geospatial PDF
Introduction to Avenza
Discover multiple methods for importing maps
Understanding the interface
Uncover the limitations and capabilities
Share maps with others
Integrating the Two
Working Session: Build A Map
Field Test: Following A GPS track
Field Test: Generating a GPS track
SESSION 2
Google Earth & Other Technology Integrations
Import Maps into Google Earth
Import .gpx and .kml files into Google Earth
Browse 3D terrain with map and tracks visible
Virtually follow the GPS tracks in Google Earth simulation
Instructional Objectives
Introduction to Google Earth
Discover capabilities of Google Earth
Explore different views available
Travel to any destination in the world
Integrate PDF Maps
Import PDF maps
Import GPS tracks
Virtually travel your tracks
Integrating Other Technology
Using GPS technology to plan a trip
Using past data to recall and share trip reports
SESSION 3
Creating Trip Plans for Emergency Navigation
Generate a working document for navigation
Outline key navigational data
Establish emergency protocol and plan
Instructional Objectives
Introduction to Trip Plans
Purpose of Trip Plan
Key Features
How to Use a Trip Plan
Generating a Trip Plan
Shooting compass bearings in Caltopo
Understanding hiking/moving speeds
Using traditional methods to supplement the plan
Identifying Emergency Bail Options
Working Session: Generate Your Own Plan

A special thanks to Chauvin Guides International. Your expertise is unparalleled.
 Register Online Now
Upon Registration, you will receive a confirmation email with necessary information regarding your upcoming webinar. On the day and time of the webinar, you will be invited to join the video call by the instructor. We ask that you be on standby to receive this call. Anyone who misses the invitation will have to reschedule their session.
Searching Availability...