Howdy Guys and Gals!
It's been a while since our last post and I apologize for that! I hope everyone has been having an awesome winter so far! I know we have had a great January. February and March promise to be pretty epic as well. This past weekend was IceFest in the Mt. Washington Valley and that meant there were a ton of climbers around! We had perfect conditions for it too! The ice has really been in great shape this season (barring a couple unseasonably warm weeks mixed in).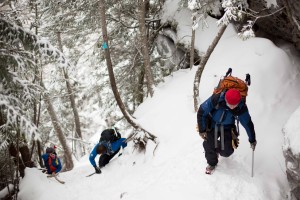 The first weekend of February brought Skills Courses, Ice Climbing, and very successful Mt. Washington Climbs. On Friday our group got a late start due to the airlines cancelling some flights from Chicago, but we were able to salvage the day and get some great practice in! On Saturday we had a big group for Intro to Ice Climbing, as well as a full boat on Mt. Washington! With it being IceFest and all, we tried to get out there early and claim our spot on the ice, which we were able to do. We went over to Frankenstein cliff and climbed on Walk in the Forest (WI3). On Washington, all 8 got to the summit in beautiful conditions. If that wasn't enough we had a really fun group for a one day skills course, prepping for their Mt. Washington Attempt the next day. Everyone was stoked when they got back to the bunkhouse. The bunkhouse was absolutely packed to the rafters with climbers sharing their stories from their climbs! We find great joy in the community we are creating and we love spending time with old friends and new!

On Sunday we had another smaller Intro to Ice Climbing group as well as a One Day Ice Climb scheduled. Both had great days on the ice with one climbing at Frankenstein and one on Mt. Willard. Our group of 6 (including two guides) made the summit of Mt. Washington as well on Sunday giving us a 100% summit rate for the weekend. The conditions were warm and breezy (relatively). We made really good time and the group was a blast to spend a day with!
This weekend is another busy one.. just how we like it. We have so many great trips planned this winter such as a couple presidential traverses, winter camping courses, and a bunch of Mt. Washington attempts and Ice Climbing courses. We're so excited to share our love for the outdoors with everyone who is scheduled to climb this winter. Let's go have a safe and fun winter!!!