I remember a time in middle school where my teachers referred to the United States as a melting pot, a place where people from all over the world could come together and share their culture with one another. In my opinion, Kalymnos is the melting pot of the climbing world.
For those who have never heard of Kalymnos, it is a small Greek island located in the south-eastern most region of the Greek Isles, closer to Istanbul than Athens. Originally, the people of Kalymnos lived quiet lives as sea sponge divers, collecting and selling valuable sponges found only by diving to great depths. In the early 1990's European climbers on holiday noticed the large, overhanging limestone cliffs that covered the island, and wondered why in the world no one had ever climbed them. From here, the tourist industry on Kalymnos took off. Millions of people a year visit this little Mediterranean paradise to climb what has quickly become one of the world's most renowned sport climbing areas.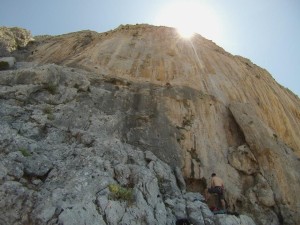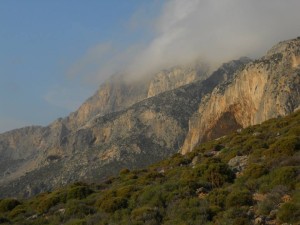 After close to twenty four hours of travel which included a layover in Istanbul and a night in Athens, my climbing partner and I finally arrived on the island. We were immediately struck by the sheer beauty of the place. The waters surrounding the entire island are deep blue and calm, and the island itself is full of rugged and steep hills that lead to impressive and incredibly featured limestone walls. Tuffas and stalactites cover the steep and overhanging walls, while pockets and crimps cover the equally as challenging slabs. Every crag has views of the sea and nearby Telendos, a smaller island located a mile from Kalymnos.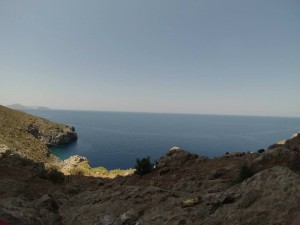 The second thing my partner and I noticed was the slower pace of life. Having just seen the hustle and bustle of the Istanbul airport and downtown Athens, the relaxed feel to this place was certainly welcome. It was not uncommon to have a late start to the day, drink coffee for multiple hours, maybe do a little climbing, cool off in the ocean, climb some more, then have drinks and finally eat dinner at around 10pm.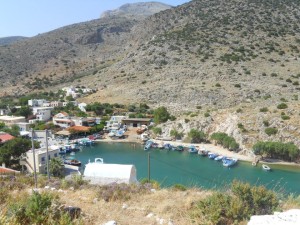 I could sit here and describe in full detail every hold, feature and piece of beta for the incredible climbs we did (literally the best climbs I have ever done in my life), I could brag about my onsights or red points and discuss the grading and what crags are worth going to (all of them). Although the reason I went to Kalymnos was to climb, the climbing was not what stood out the most for me. What stood out the most was the culture of Kalymnos, and Greece in general.
The main climbing village of Kalymnos is called Massouri. The village itself is basically one mile of road located right on the sea, both sides of the street are jam packed with restaurants, cafes and apartments. On any given morning you can see shop owners or restaurant owners sitting in the shade of outdoor cafes drinking coffee and playing with their worry beads, and you are guaranteed to see them in the same seats later that day. The street itself is quiet except for the buzzing of scooters and the occasional car. While on the island my partner and I decided to eat in as many restaurants as possible. The food was hands down the most amazing I have ever eaten. Every night we had fresh seafood or lamb, feta cheese, fresh salads and pastries for dessert accompanied by Ouzo. You cannot go to Greece and not enjoy a glass (or half a bottle) of Ouzo with dinner. Speaking of things you can't miss in Greece, you also can't miss out on traditional Greek music and dancing. Many of the restaurants have live music at night complete with traditional Greek dancing and cheering.
What really made the experience however, were the people. The locals love the climbers that visit their quiet village every year. They love to hear where everyone is from and they love to share and swap climbing stories. If you try and speak to them in Greek, they give you a huge smile and sometimes a free dessert after you have finished your dinner. In the short time we were on Kalymnos we met and made friends with people from all over the world. We met climbers from London and enjoyed morning coffee with them while talking climbing world politics. We had dinner with Swedish and Israeli climbers and drinks with Austrians, Germans and Swiss. We even watched Greek dancing with another group of American's we found.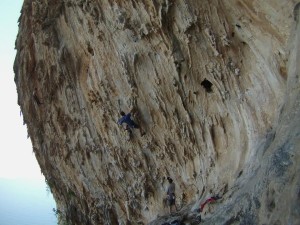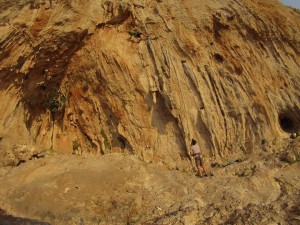 This is why we travel. This is why we climb. Sure climbing is fun on its own, but climbing is also the common interests that brings all of these people together each year, and allows us to escape our sheltered lives in the United States and get out and experience not only the culture of the places we are visiting, but also the culture of the people we meet. Kalymnos is truly a melting pot, it brings together climbers from all walks of life and all ability levels and gives them the chance to share their stories and spend time together in a way that is completely unique to the island.
Kalymnos has always been at the top of my list of places to climb. On the plane ride home I realized that I had crossed number one off my list, so whats next? I put together the following top ten list of places I want to rock climb. Everyone has their top then, what's yours?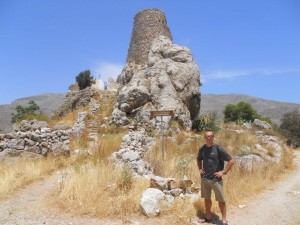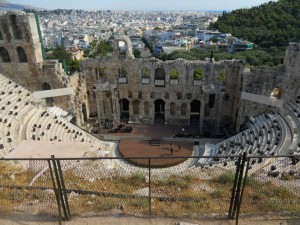 Kalymnos, Greece
Patagonia, Argentina
Chamonix, France
Ceuse, France
Squamish, BC, Canada
The Bugaboos, Canada
Yosemite, California
Thailand
Grampians, Australia
Dolomites, Italy

– Alek, NEM Director of Operations/Guide