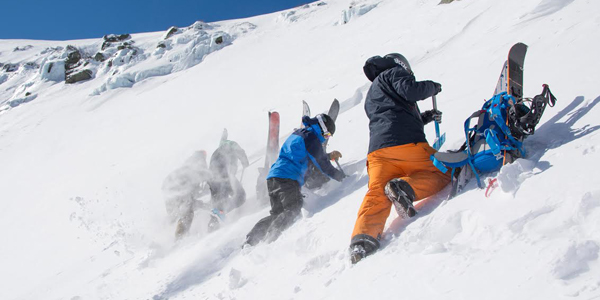 Analyzing Snow Stability and Avalanche Hazard
The AIARE 2 is a three-day/24-hour course that provides backcountry travelers an opportunity to advance their decision making skills in more complicated situations such as being a leader within a small travel group, traveling in more complicated terrain, and/or developing a travel plan where online resources are scarce.
The AIARE 2 builds on the introductory avalanche hazard management model introduced in the AIARE 1 and adds to it the evaluation of critical hazard assessment factors. Students will describe and discuss weather, snowpack and avalanche processes, and identify how these processes relate to observations and travel within avalanche terrain.
IMPORTANT BETA
LODGING INCLUDED*
2 nights at The Bunkhouse at Northeast Mountaineering
*As space permits. Requires additional online reservation at The Bunkhouse.
COURSE DETAILS
Length: 3 Days [24 Hours]
Guide-to-Client: 1:6
Price: $495 per person
Type: Educational

2019-2020 DATES
Jan. 31-Feb. 2, 2020
March 22-24, 2020

RENTAL GEAR
For this course, you will need an Avalanche Beacon, Probe and Shovel. These items may be rented for $50.
Most of the required equipment is available for rent from our affiliate mtnGEAR. AIARE Participants will receive an exclusive discount of 50% beacon, probe and shovel and an additional 20% discount on all rental equipment and clothing.

AIARE 2 COURSE OBJECTIVES
In the past the AIARE 2 was designed to be an entry level professional course. New for 2017, the redesigned AIARE 2 is designed specifically to meet the needs of advanced recreational students who have taken an AIARE 1 and Avalanche Rescue class.
Learning Outcomes
At the end of the AIARE 2 course the student should be able to:
Differentiate where specific avalanche hazards exist within the landscape and identify avalanche terrain where consequences may be more severe.
Use and interpret weather, snow, and avalanche observations to locate appropriate terrain prior to entering and while in the field.
Demonstrate leadership skills within a small team that include facilitating small group discussion, promoting appropriate terrain selection, and utilizing simple risk management strategies.
Implement a basic forecasting framework that can be used in conjunction with and in the absences of local supporting avalanche information.
Instructional sessions (24 hours including both class and field instruction).
Changing Mountain Snowpack

AIARE 1 Review
Mountain Weather
The Layered Mountain Snowpack
Trip Planning Review
Snowprofiles in the Field

Making Quality Observations

Avalanche Formation and Release
Interpreting Weather Data, Snow Surface Conditions, and Snow Profiles
Craftsmanship, Relevancy, and Verification of Snow Observations
Risk Management in Small Groups
Snowpack Test in the Field

Applying Observations to Field Decisions

Traveling in the Field as a Small Team
Field Risk Management and During Action Review
Communicating Observations to our group, other travelers, and local experts
Course Itinerary
ALPINE TOURING OR SPLIT BOARDING
For this course we will be accessing the backcountry. If you own a touring setup or split board you are welcome to skin with the instructor and consequently ski or ride out at the end of the day. Please bring your own AT or Split Board setups as we do not have these available for rent. For this course, snowshoes will not suffice as it will severely limit our ski tours on day 2 and 3.
DAY 1
AIARE 1 Review
---
Mountain Weather
---
The Layered Mountain Snowpack
---
Trip Planning Review
---
Snowprofiles in the Field
DAY 2
Avalanche Formation and Release
---
Interpreting Weather Data, Snow Surface Conditions, and Snow Profiles
---
Craftsmanship, Relevancy, and Verification of Snow Observations
---
Risk Management in Small Groups
---
Snowpack Test in the Field
DAY 3
Traveling in the Field as a Small Team
---
Field Risk Management and During Action Review
---
Communicating Observations to our group, other travelers, and local experts