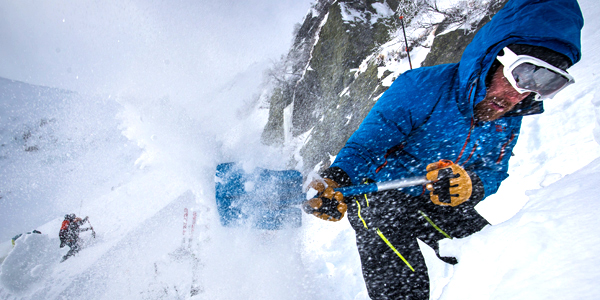 AIARE 2: Analyzing Snow Stability and Avalanche Hazard
The AIARE 2 course is a 4-day program that provides backcountry leaders the opportunity to advance their avalanche knowledge and decision making skills. This course also includes the introductory and prerequisite components for the professional progression: the AIARE 3 certificate.
The AIARE 2 builds from the introductory avalanche hazard management model introduced in the level one and adds to it the evaluation of factors critical to stability evaluation.
IMPORTANT BETA
LODGING INCLUDED*
3 nights at The Bunkhouse at Northeast Mountaineering
*As space permits
COURSE DETAILS
Length: 4 Days [40 Hours]
Guide-to-Client: 1:7
Price: $475 per person

2016-2017 DATES
February 17-20 [Sold Out]
March 10-13

RENTAL GEAR
For this course, you will need an Avalanche Beacon, Probe and Shovel. These items may be rented for $66.00.
Most of the required equipment is available for rent from our affiliate mtnGEAR. AIARE Participants will receive an exclusive discount of 50% beacon, probe and shovel and an additional 20% discount on all rental equipment and clothing.

AIARE 2 COURSE OBJECTIVES
Learning Outcomes
At the end of the AIARE 2 course the student should be able to:
Advance understanding of avalanche terrain, particularly from the perspective of stability analysis.
Discuss how the snowpack develops and metamorphoses over time; and discuss the factors that contribute to spatial variability.
Learn standard observation guidelines and recording formats for factors that influence or indicate snow stability.
Advance understanding of avalanche release and triggering mechanisms.
Introduce a snow stability analysis and forecasting framework.
Improve companion rescue skills including multiple and deep burials.
Instructional sessions (40 hours including both class and field instruction).
AIARE 1 Review
Energy balance, the mountain snowpack and metamorphism
Faceting; near surface and near crust faceting
Formation of surface hoar and persistent weak layers
Skier Triggering: theory and observations
International and national snow, weather and avalanche observation and recording guidelines (SWAG)

Weather; interpreting forecasts, recording and observation techniques
Snow profile techniques and bonding tests
Avalanche observations and recording techniques

Stability analysis checklist: reviewing critical factors

Stability ratings
Daily stability forecasts and analysis

Trip Planning and hazard forecasting for avalanche terrain

The avalanche danger ratings
Terrain analysis using maps/photos
Forecasting stability and variability
Terrain selection and route finding

Group management and hazard management

Decision making
Human factors

Information gathering

Site selection and relevancy
Spatial variability
Slope tests

Companion Rescue

AIARE 1 techniques review
Multiple burial
Shovel techniques
Course Itinerary
ALPINE TOURING OR SPLIT BOARDING
For this course we will be accessing the backcountry. If you own a touring setup or split board you are welcome to skin with the instructor and consequently ski or ride out at the end of the day. Please bring your own AT or Split Board setups as we do not have these available for rent. For this course, snowshoes will not suffice as it will severely limit our ski tours on day 3 and 4.
DAY 1
9:00-9:30: Introductions, Ice Breaker, Agenda/Logistics
---
9:30-11:00:
Small group exercise: Case Study: Loveland Pass (think/pair/share)
---
11:00-12:00:
Review of Pre-Course Exercise (peer clarifications)
---
12:00-12:45:
Lunch
---
12:45-1:15:
Companion Rescue Upgrade (inside)
---
1:15-3:00:
Companion Rescue Upgrade (outside) Multiple Burials, Deep Burials, Close Proximity Burials (micro strip), Leadership
---
3:00-4:00:
Mountain Weather
---
4:00-5:00:
Avalanche Release
---
5:00-5:30:
Day 1 Debrief and prep for Day 2, homework assignments (AHB p. 21-34), Read Bulletin
---
DAY 2
8:30-9:00: The Mountain Snowpack; Formation of New Snow
---
9:00-9:45:
Making Observations Relevant
---
9:45-10:15:
Snowpack Structure and the Environment
---
10:15-10:45:
Snow Metamorphism
---
10:45-11:45:
Facets/NSF's/NCfs/Surface Hoar
---
11:45-1:00:
Lunch/Travel to Field Location
---
1:00 - 4:00:
Full Profile Demo/Practice/Recording
---
4:00 - 4:30:
Return to Classroom
---
4:30 - 5:30:
Avalanche Hazard and Risk Assessment (group exercise)
---
5:30-6:30:
Day 2 debrief and prep for Day 3, homework assignments; SWAG reading assignments, read bulletin
---
DAY 3
8:30-9:30: Trip Planning Session (location TBD)
---
9:30-10:00:
Travel to field location
---
10:00-4:00:
Ski Tour Observational Outing, targeted sites for Test Profiles (CT, ECT, PST, RB)
---
4:00-4:30:
Return to Classroom (location TBD)
---
4:30-5:30:
Avalanche Hazard and Risk Assessment (group exercise)
---
5:30- 6:30:
Day 3 debrief and prep for Day 4, homework assignments
---
DAY 4
8:30-9:30: Trip Planning Session (location TBD)
---
9:30-4:30:
Student Led Ski Tour (location TBD; GoS, Tucks, Cog to Summit, Ammo, Burt, East Snowfields)
---
4:30-5:30:
Course Debrief & Close
---
 Book Online Now
Searching Availability...