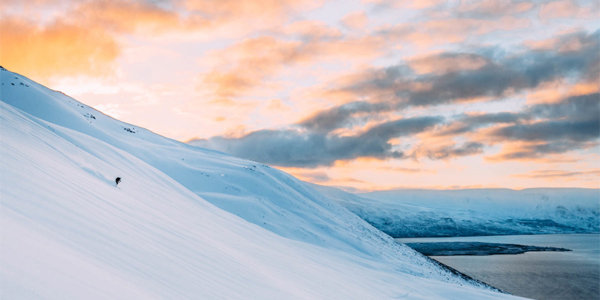 Iceland: Troll Peninsula
TAKE AIARE AVALANCHE 1 AND RESCUE IN ICELAND!
The Troll Peninsula of Iceland is a world-class backcountry skiing destination that affords summit to sea descents. If you're into endless terrain of varying degrees just south of the arctic circle then Iceland is the place for you. Join us for 9 days. This is a destination trip with AIARE 1, AIARE Avalanche Rescue and a full day of touring built in to a jam-packed ski vacation.
IMPORTANT BETA
CLIMB DETAILS
Price: $2095 Per Person
Length: 9 days
Guide-to-Client Ratio: 1:4
Difficulty: Strenuous
When: March 3-11, 2018
Type: Ski Mountaineering
INCLUDED
1:4 NEM Guide Ratio
AIARE 1 + Rescue Tuition
Lodging throughout
All Group Gear
Emergency Gear

NOT INCLUDED
Airfare
Transportation
Personal Gear
Meals
Rental gear
Gratuities

RENTAL GEAR
Most of the required equipment is available for rent from our affiliate mtnGEAR. NEM climbers will receive an exclusive discount of 20% discount on all rental equipment and clothing.
Day 1 [March 3]:
The majority of flights to Reykjavik are red eye flights arriving in Iceland around 5AM. Please plan to arrive in Iceland very early on March 4th in order to make the 5 hour drive to Akureyri.
Day 2: The 5-hour drive North to Akureyri is truly beautiful and gives you a great introduction to the Icelandic scenery. Upon arrival, you will have time to nap and relax. You will meet your NEM guides around 3pm and go through an extensive gear check. Dinner will be enjoyed in the beautiful town of Akureyri.
AIARE AVY + SKIING ITINERARY BEGINS*
Day 3: Today we will begin the avalanche education curriculum. We will use almost all of the daylight hours learning and practicing the companion rescue process before grabbing dinner as a team.
Day 4-6: These days will be spent in and out of the classroom as we cover the AIARE Level I (Rec 1) curriculum. The first day is spent mostly indoors, the second day is spent half indoors and half outdoors and the third day is mostly outdoors on a short ski tour and skills session. These training days are critical in keeping us safe while touring.
Day 7: A full day of skiing anything and everything we can. Your NEM guides will pick appropriate objectives for the group based on snow conditions, weather conditions and the group's skiing ability. We will put our new training to the test as we pick appropriate objectives, plan a tour, execute our plan and thorough group discussions. The Troll Peninsula is home to some of the best skiing in Iceland, where you can truly ski from the summit to the sea. We will have a celebration dinner on the night of the 9th.
AIARE AVY + SKIING ITINERARY ENDS
Day 8: After breakfast, we will begin the long drive back to the capital city of Reykjavik arriving in the city no earlier than 3PM. Evening flights (after 6PM) can be booked if you are on a time crunch and they are available. Most flights depart to the US around mid-day so we highly recommend departing the following day. For those staying over night (not included in cost), we will hit the town to experience the Icelandic culture and this magnificent city.
Day 9: If you opted for the latter, you can book return flights for this date instead.

*Itinerary is subject to change based on weather and snow conditions. We will maximize the experience by adjusting the itinerary to match the conditions.
THINGS TO CONSIDER
All Participants MUST be skilled skiers or split-boarders. Unfortunately due to the remoteness of the ski tours and the amount of curriculum to pack into this trip, we cannot allow for snowshoeing.
Participants must have prior backcountry experience and be comfortable skiing 45-degree terrain in variable conditions. Skiing in the backcountry has little resemblance of resort skiing.
Although the most affordable, we highly recommend you do not fly WOW Airlines. They are notorious for losing baggage, delayed flights and charging fees for nearly everything. Iceland Air is the preferred airline. $500 flights are the norm.
Iceland is expensive. Meals are often $20-$30/person. Please factor this into your budget. You will be able to cook at the house should you wish to save some money.
There will be limited parking at the rental house. Once we have our roster finalized, we will send out emails of the participants so you can then coordinate rental cars and split the cost of the rental and gas.
We will have WiFi at the rental house. If you would like to have WiFi in the field, we recommend the SkyRoam device.
Backcountry ski gear is hard to come by in Iceland. We recommend you bring replacement parts as well as a small tool kit in order to fix common issues with your set-up.
As with all NEM international adventures, we highly recommend "Global Rescue" insurance as well as trip insurance.
 Book Online Now
Searching Availability...