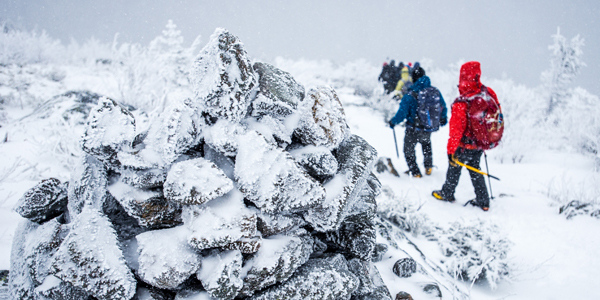 Mount Washington, NH in Winter
This is the big one - the tallest mountain in the Northeast! Mt. Washington towers over its neighbors at an elevation of 6,288ft. It is known for erratic weather and extremely strong winds. A winter climb of Mt. Washington is a serious undertaking. Participants can expect an 8-10 hour climb up the Winter Lion Head Trail or one of the many other routes that lead to the summit - with a large portion of the day above tree line. Participants should be prepared, in good physical shape with prior hiking experience.
IMPORTANT BETA
CLIMB DETAILS
Length: 8-10 Hours
Guide-to-Client Ratio: 1:4
Difficulty: Strenuous
When: December - April
Type: Mountaineering
PRICING
1 person: $295 per person
2 people: $195 per person
3 people: $160 per person
4 people: $150 per person
Group & private rates available

RENTAL GEAR
Most of the required equipment [listed below] is available for rent from our affiliate
mtnGEAR
. NEM climbers will receive an exclusive discount of 20% discount on all rental equipment and clothing.
BE INFORMED. BE PREPARED.
Itinerary
One day Mount Washington Climb & Summit Attempt
7am Meet at The Bunkhouse at Northeast Mountaineering
Most popular route is Winter Lion Head Route
Other options included Ammonoosuc Ravine Trail, Tuckerman Ravine Trail and many more as conditions permit
Summit attempt and return to The Bunkhouse around 5pm
Skill Set Taught & Required
If you aren't currently familiar, we will assist you with the following skills to you during the climb. We work hard to ensure your safety.
For all ages and ability levels

Crampon techniques for ascending, descending and snow travel
Basic self arrest
What To Wear
PLEASE BRING THESE ITEMS WITH YOU FROM HOME
To be prepared you will need the following items. When selecting clothing for your adventure, think layers. Choose synthetic materials, wool, or fleece. The saying is "Cotton Kills." It will absorb sweat and then freeze - increasing the chances of hypothermia.
Snow pants will suffice instead of soft shell climbing pants and if you have insulating layers and jackets we recommend that you bring them. There will be time to sort through what you should bring and what you leave behind.
Mandatory Gear List
RENTALS AVAILABLE AT CLIMBINGRENTALS.COM
Most of the required equipment [listed below] is available for rent from our affiliate mtnGEAR. NEM climbers will receive an exclusive discount of 20% discount on all rental equipment and clothing.
Mandatory Items

Guides Pick

[  ] Pack with Waist Strap: A 30-40L pack is the recommended size for one day climbs. Your pack MUST have a waist strap. A backpack will not suffice.
Patagonia Ascensionist Daypack 35L


[  ] Crampons: 10-12 point adjustable crampons designed for mountaineering
Black Diamond Contact Clip


[  ] Ice Axe: An ice axe designed for general mountaineering.
Black Diamond Raven


[  ] Helmet: A lightweight climbing helmet.
Black Diamond Half Dome


[  ] Warm Hat: Wool or synthetic. It should be warm and thin enough to fit underneath a climbing helmet.
Outdoor Research Gradient


[  ] Buff/Neck Gaiter: Buff makes the best option.
Buff


[  ] Ball Hat/Sun Hat: Optional. A lightweight ball cap or sun hat.
[  ] Sun Glasses: A pair of dark-lensed sunglasses with side shields or full wrap-type sunglasses.
Julbo Dolman


[  ] Lightweight glove: One pair of fleece gloves.
OR PL Sensor


[  ] Goggles
[  ] Heavy Insulated Mitten: Wind/water resistant, insulated mittens for protection against wind, snow and cold. These also serve as emergency back-ups if you drop or lose a glove.
Marmot Expedition Mitts


[  ] Light Insulating Layer/Soft Shell Top: A fleece or other insulation layer.
Patagonia R1 Pullover


[  ]Hard Shell Jacket with Hood: Wind/rain Proof. Gore-Tex recommended.
OR Maximus


[  ] Insulated Parka: This item becomes of highest importance when we are faced with poor weather. This should be an expeditionary-type heavy parka that extends well below the waist and above the knees. Goose down is recommended versus synthetic fill. It does not have to be waterproof, but that is a nice feature. The parka is worn primarily at rest breaks on summit day and as an emergency garment if needed. When sizing a parka, allow for several layers to be worn underneath; buy it large. The parka must have an insulated hood.
OR Incandescent Hooded


[  ] Climbing Pants: Synthetic climbing pants offer a wide range of versatility. You can wear them alone on hot days, or in combination with the base layer on cold days. The thickness (insulation quality) should be based on how well you do in the cold. For most of our adventures snow pants will suffice.
OR Ferrosi Men's

OR Ferrosi Women's


[  ] Hard Shell Pants: A pant made of breathable rain and wind-proof material will be needed. Full-length side zippers are required for facilitating quick clothing adjustments over boots and crampons in cold, inclement weather.

*Optional. Only needed if there is rain or snow in the forecast.

Marmot Precip Full Zip


[  ] Mountaineering Boots: Insulated plastic boots are the preferred choice for winter mountaineering. They provide the best insulation as well as a more rigid sole for kicking steps and holding crampons. Leather mountaineering boots that have completely rigid soles are also adequate, but they will need to be insulated and may still result in cold feet above treeline. Lightweight hiking boots without insulation are not acceptable as they don't work well with crampons, or in very cold or wet weather. Winter boots are not acceptable unless they adequately hold a crampon.
Scarpa Inverno


[  ] Gaiters: A knee-length pair of gaiters, large enough to fit over your mountaineering boots. This will protect you from catching your crampons on loose clothing.
OR Expedition Crocs


Visit mtnGEAR for Rental Prices
Nutrition & Hydration
Nutrition
It is important to continuously take in calories throughout the day. Every break you should eat a snack during the short 10 to 15 minute rest. Food is the wood to your fire and to keep it stoked it needs constant replenishing. Do not plan on cooking or preparing your snacks in the field. All food should be prepared and packed ready for immediate consumption.
We suggest crackers, pizza, candy bars, jerky, chips, cookies, trail mix, fruits, Gu, energy bars, and hard candies. Add peanut butter, cream cheese, hard cheese, or pepperoni for additional calories and taste. If you enjoy bread items, bagels work well. Include some salty snacks to replenish lost salts.
Hydration
To help prevent cramping and heat related injuries, you will need at least 2 liters of water per day. Water is preferred, but other liquids such as gatorade help replace electrolytes and work well, too! Hydration bladders do not work as they freeze during the winter months. Please leave these at home. Instead, bring 32oz. Wide Mouth Nalgene bottles and insulating parkas if you have them. If not, you can use a sock to insulate each water bottle.
FAQ's
Please read through the following frequently asked questions and answers. These will help you prepare for your trip and get a better understanding of what to expect.
Do I need any prior experience?
You do not need prior experience to join us! The Mount Washington Climb is designed for all ages and experience levels. The weather above treeline can be extreme and participants should be prepared for exposure to high winds and arctic temperatures. We will work hard to ensure your safety, teach you the necessary skills and keep the excitement level high!
What happens if the weather doesn't cooperate?
We usually will go out in the rain and snow. Lightning will reschedule or end our course. Please plan for all weather conditions. We may just alter the plan based on the weather forecast.
Am I supposed to tip my guide(s)?
Tips are never expected, however if you think your guide did a great job, tips are welcomed and appreciated. A normal tip is 20% of the guide fees or $20 per guide per day.
Can I rent the gear that I do not own?
Most of the required equipment is available for rent from our affiliate mtnGEAR. NEM climbers will receive an exclusive discount of 20% discount on all rental equipment and clothing.
What are 'Mountaineering Boots'?
These are boots that are designed specifically for snow and very cold weather. They are often composed of an internal insulating boot and an exterior plastic or leather boot. Hiking boots and winter snow boots are not suitable for Mt. Washington or the high peaks of New England in the winter.
Where should I stay during the course?
We recommend The Bunkhouse at Northeast Mountaineering. For your convenience, we offer co-ed, hostel-style accommodations on site. The cost is $45 per person. To maximize your climbing experience, we recommend that you stay in the area the night before your climb.
How do I find out when and where to meet?
Upon completion of your registration you will get a confirmation email with a link to all the pertinent information. You will be asked to secure your rental equipment and read through the welcome information to be prepared and on time for your course.

Looking for less crowds? Check out the NH 4,000 footers to get off the beaten path. Still not sure? Contact Us for a recommendation.
Add An Additional Day of Preparation
Mount Washington can be intimidating - especially in winter. Add a day of preparation to your summit climb. Upon completion of our Mountaineering Skills Course - jammed packed with excellent skills and information - you will feel confident and ready to take on the northeast's highest peak.
Convenient, Affordable lodging available at The Bunkhouse at Northeast Mountaineering. Spend the night for just $45 per person!

PRICING
1 person: $550 per person
2 people: $350 per person
3 people: $280 per person
4 people: $260 per person
5+people: Call for rates

 Book Online Here
Searching Availability...