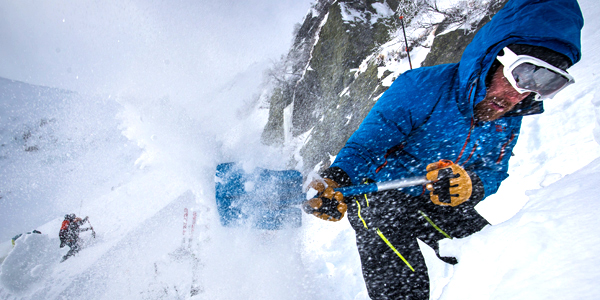 AIARE: Avalanche Rescue
AIARE Avalanche Rescue is a one-day stand alone course that is intended to be retaken on a regular basis in order to keep abreast of best practices in rescue techniques and gear. New participants will learn the basics of companion rescue, while return participants will expand their skill set with advanced topics and realistic scenario practice to help improve their skills after the course.
Each participant will have the opportunity to receive professional coaching their rescue skills and will receive a rescue card acknowledging completion date at course end.

Book Online Now
IMPORTANT BETA
LODGING INCLUDED*
1 nights at The Bunkhouse at Northeast Mountaineering
*As space permits. Requires additional online reservation at The Bunkhouse.
COURSE DETAILS
Length: 1 Day [8 Hours]
Guide-to-Client: 2:12
Price: $150 per person

2017-2018 DATES
January 29
February 5
February 19
March 19
RENTAL GEAR
For this course, you will need an Avalanche Beacon, Probe and Shovel. These items may be rented for $16.50.
Most of the required equipment is available for rent from our affiliate mtnGEAR. AIARE Participants will receive an exclusive discount of 50% beacon, probe and shovel and an additional 20% discount on all rental equipment and clothing.

AIARE AVALANCHE RESCUE
Learning Outcomes
Student Learning Outcomes
At the end of the AIARE Avalanche Rescue course the student should be able to:
Describe what to do if they or a member of their party is caught in an avalanche.
Identify and be able to use gear necessary for avalanche rescue.
Set up a realistic scenario in order to practice an avalanche rescue response.
Improve their response skills and times during and after the course with feedback from instructors and peers.
Develop a plan for continued practice
Instructional sessions (8 hours including both class and field instruction).
Personal protective and avalanche rescue equipment

Identify and familiarize students with winter personal protective, avalanche rescue, and self-evacuation equipment and their proper use
Demonstrate and practice routines to check gear's function

Demonstrate Avalanche Rescue

Introduce Avalanche Rescue Quick Reference tool and apply it to a scenario
Breakdown and practice individuals skills of avalanche rescue: assessing the scene and taking leadership, using a transceiver, using a probe, and shoveling

Single Burial Scenarios

Learn to set up effective scenarios for practice
Integrate individual skills into a rescue scenario

Patient Considerations and Evacuation
Identify potential patient care considerations resulting from avalanche burial or involvement
Name equipment for self-evacuation and communication to outside resources
Describe considerations when interfacing with Search and Rescue and Emergency Medical Services
Scenario Practice and Feedback
Integrate skills and receive feedback on rescue response from a professional
Course Itinerary
SKIING, RIDING OR SNOWSHOEING
For this course we will be accessing the backcountry. If you own a touring setup or split board you are welcome to skin with the instructor and consequently ski or ride out at the end of the day. Please bring your own AT or Split Board setups as we do not have these available for rent. If you do not ski or ride, please plan to snowshoe - which can be rented from mtnGEAR.
DAY 1
9:00-9:30: Coming Soon
---
 Book Online Now
Searching Availability...