Kyrgyzstan: Backcountry Touring
With an average of 20 meters of snowfall annually, Kyrgyzstan has some of the best snow on the planet! Backcountry skiing and riding in an international destination does not have to come with a huge price tag. We'll spend our days touring in the scenic Babash Ata mountains which is famous for the largest and oldest walnut forest in the world. We will be fully immersed in the Kyrgyz culture as we stay and eat meals with the locals. This all-inclusive experience checks all of the boxes.
---
CLIMB DETAILS
Price: $2400 Per Person
Length: 10 days
Guide-to-Client Ratio: 1:4
Difficulty: Strenuous
When: January 14-23, 2024
Type: Backcountry Skiing/Riding
Now booking 2024
A non-refundable deposit of $750 per person secures your reservation. Payments may be made via MasterCard, Visa, American Express, or check.
INCLUDED
All in-country transportation
Lodging in-country throughout the itinerary
All meals in-country throughout the itinerary
Domestic flights
NEM Guides
Local Guide
NOT INCLUDED
International airfare to and from Bishkek
Excess baggage charges
Travel and rescue insurance
Gratuities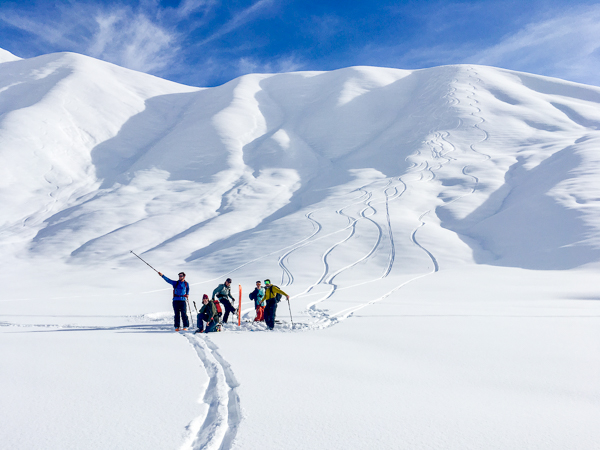 January 14: Bishkek 
Upon your early morning arrival in Bishkek, you will be met by your NEM Guides and transferred to the hotel. After a nap, you'll have time to explore the capital city.
January 15: Bishkek Si Resort
We'll spend the day at a local ski resort. We will spend a large portion of the day reviewing avalanche rescue and rescue procedures. We'll have time in the afternoon to purchase any extra pieces of gear we may need.
January 16: Fly to Osh and drive to Arslanbob
Today, we will fly from Bishkek to Osh (second largest city) and then drive to Arslanbob. It is a beautiful drive allowing us to preview this beautiful country.
TOURING BEGINS
January 17-21: Skiing and Riding
For 5 days we will tour throughout the Babash-Ata mountains. Kyrgyzstan has cold temps and high amounts of snowfall, making for some incredible riding conditions. In addition to terrific snow, we'll have ample time to immerse ourselves in the local culture, interact with local people and participate in their traditions. Meals and lodging will be provided in local home-stays.
January 22: Drive to Osh and Fly to Bishkek 
After 5 days of touring, we'll say our goodbyes to the beautiful village and begin our travel back to Bishkek.
January 23: International Departure
Our journey home begins!
GENERAL POLICIES
NEMs Adventure itineraries are subject to change or be adjusted based on a number of factors. These include, but are not limited to, route conditions, weather, terrain, group dynamics and many other factors. NEM has complete discretion to change plans to accommodate any of these or other factors, including the discretion to change program schedule or itinerary, and change guides or staff, as necessary for the proper and safe conduct of the program. We reserve the right to cancel any program due to inadequate signups, weather or route conditions. In such a case, an NEM credit for the full value is given; however, NEM cannot be responsible for any additional expenses incurred in preparing for the program (i.e., airline tickets, equipment purchase or rental, hotel reservations). NEM reserves the right to dismiss the Participant from a trip at any time if NEM determines, in its sole discretion, that the Participant is not physically, technically, or psychologically prepared for or capable of participating in the program. This includes being under the influence of alcohol and/or drugs.
SUMMIT ATTEMPT
Northeast Mountaineering cannot guarantee that you will reach the summit or complete the objective you have signed up for. Weather, route conditions, your own abilities or the abilities of others may create circumstances that make an ascent unsafe, and you or your entire party will have to turn around without reaching the summit. Your program fee entitles you to one mountain experience on your specified dates.
MINIMUM REGISTRATION REQUIREMENTS
Most of our programs do not have a minimum enrollment. If you are the only one registered, it will likely become a private outing. For our Waterfall Rappelling adventure, we must have at least 50% enrollment (3 people) to run the adventure. In the event of low-enrollment, we will reschedule your adventure to another date. If another date cannot be accommodated, you will receive an NEM credit.
Is Kyrgyzstan Safe?
Yes. The people of Kyrgyzstan are extremely friendly. We partner with a local travel agency to ensure a smooth and safe trip. We will base ourselves out of local home-stays. The locals are very accommodating to foreigners.
Do I need to purchase additional insurance?
Yes. You can purchase rescue insurance policy from the American Alpine Club for $45. Additionally, we highly recommend that you purchase trip insurance. In the case where you trip is cut short, this is how you will get a full refund. Global Rescue is a wonderful resource for insurance as well.
Do I need to bring extra medications?
Yes. You should bring basic medications in addition to any prescriptions that you need. Consider bringing a small kit with Ibuprofen, Tums, Ant-Acids, etc.
Is the water safe to drink?
Yes. Boiled water is available at the home-stays. We do recommend that you bring or purchase chlorine tablets or a Steri-pen to ensure that the water is potable.
Are showers available?
Showers are available at the home-stay
Should I bring any luxuries?
We recommend that you bring a designated change of warm, comfy clothes for lounging around the home-stay. We won't have a lot of down time but you will want to be comfortable when we do.