The Guides at Northeast Mountaineering are a small group of highly trained and experienced climbers. Collectively, they have years of experience on rock, ice and snow from New England to Alaska to Yosemite and Ecuador to Nepal. Despite their own personal ascents, they thrive on teaching their skills to others. At NEM you will get personal attention, a low guide to client ratio, and a relaxed and fun environment for you to climb to your full potential.
Our guides hold various credentials including Wilderness EMT, First Responder and First Aid, AMGA climbing certifications, Leave No Trace Trainer, Search and Rescue, and Avalanche Certifications. With NEM you are in good hands!
Corey Fitzgerald – Guide, Avalanche Instructor, Director of Operations
Corey found his love for mountains at the young age of 8 when he first scaled Mt. Adams in New Hampshire. He has continued to hike and backpack throughout the country. He found his niche of climbing bigger mountains when he visited Mt Rainier for the first time. He has training as a professional photographer, which has only compounded his love for the outdoors and high places. When he is not in the mountains, you can find him on his growing farm in Western Maine with his wife, daughter and 3 dogs.
Climbing Resume
Denali, Alaska • Mt. Rainier, Washington – 10 ascents • Mt. Shuksan, Washington – 4 ascents • Mt. Baker, Washington • Mt. Hood, Oregon – 2 ascents • Colorado – 14ers • Mt. Washington, NH – 75+ Ascents • New England Ascents • Presidential Traverse – Summer & Winter • Arctic backcountry ski expedition in Iceland x4 • Thorsborne Trail, Australia • Cayambe (18,997ft), Ecuador – 2 Ascents • Imbabura, Ecuador – 2 Ascents• Pichincha, Ecuador – Paso de la Muerte Route – 2 Ascents • Everest Basecamp Trek, Nepal • Expedition to Cordillera Blanca, Peru
Certifications
Wilderness EMT
AIARE Pro 2
AIARE Level 1+2 Instructor
AMGA Single Pitch Instructor
AMGA Apprentice Alpine Guide
Leave No Trace Trainer
AVSAR – "Winter Above Treeline Team"
Brett Fitzgerald – Co-Founder
Although Brett has always had a love for the outdoors, He found his real love for the mountains and climbing after his first visit to Mt. Rainier in Washington State. Brett has been hooked ever since. He now lives in Southern New Hampshire with his wife and two children.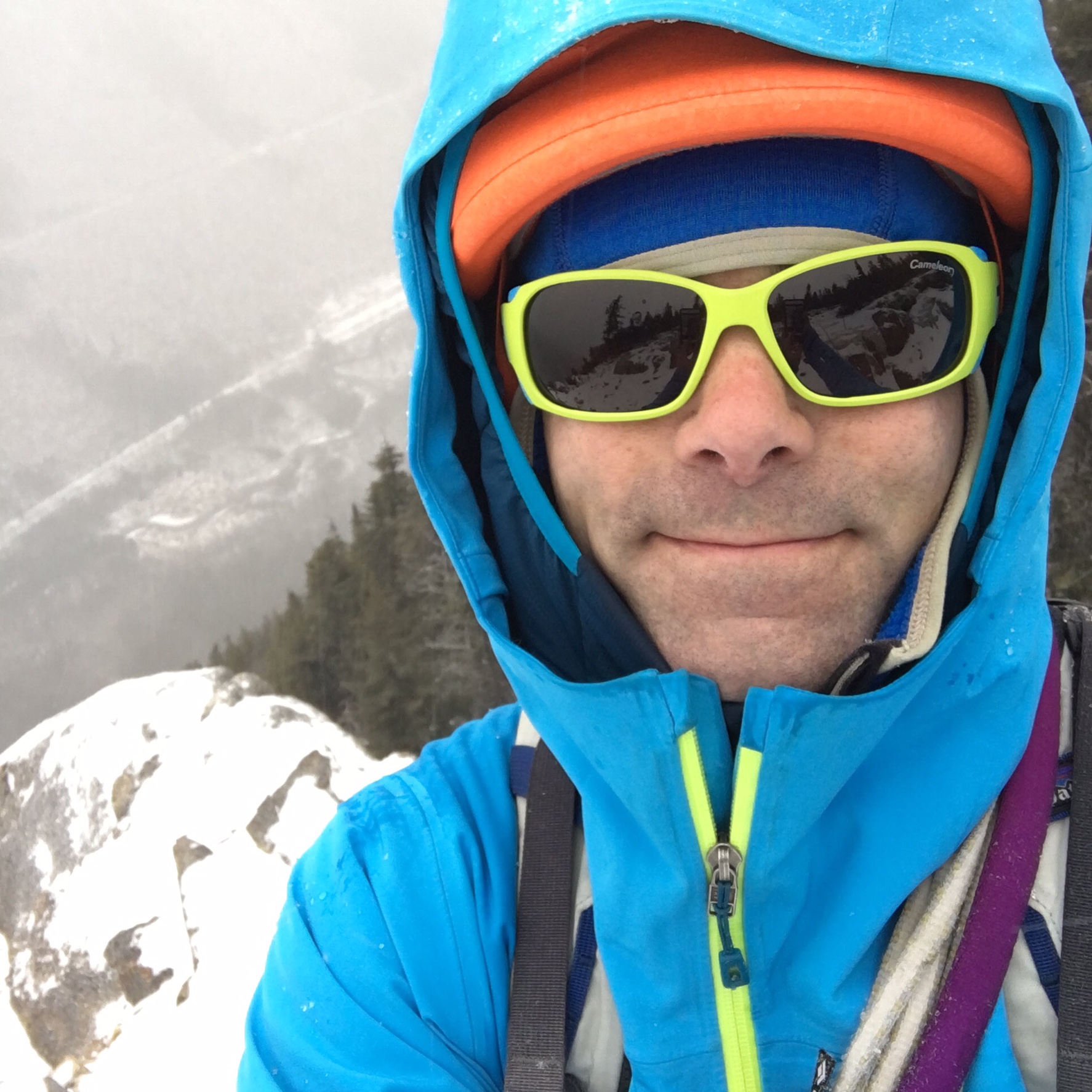 Matt started mountaineering while studying geology at University of Maine, Farmington. After a summer of fieldwork in the Cascades of Washington State, he relocated to New Hampshire to begin his tenure as Harvard Cabin Caretaker in Huntington Ravine. This move nurtured a love for Mount Washington and the White Mountains of New Hampshire. Matt's happiest while climbing, skiing, and exploring the lesser visited mountains and crags of New Hampshire and Maine with family and friends – old and new.
Climbing Resume
Mooses Tooth, AK • Mount Dickey, AK • Mount Foraker, AK • Mount Hunter, AK • Mount Rainier, WA • Mount Shuksan, WA • Forbidden Peak, WA • Mount Shasta, CA • Single day Presidential Traverse (summer & winter) • Single day Hut Traverse • Countless days climbing and skiing on Mount Washington • Knife Edge Traverse (winter) • Everest Basecamp + High Passes Trek, Nepal • Black Peak, WA • Mt Baker, WA • Mt. Rainier, WA • Multiple winter trips to Baxter State Park, ME • Multiple road trips to Joshua Tree, Red Rocks, Yosemite.
Certifications
AVSAR – "Winter Above Treeline Team"
Wilderness First Responder
AIARE Level II
High Angle Rescue Training
Leave No Trace Trainer

David Lottmann – Guide and Avalanche Instructor
David has devoted his entire adult life to climbing – pushing his grade on recreational objectives and working as a professional mountain guide. After a stint in the United States Marine Corp, he was hired as a rock and ice instructor and since has expanded his repertoire to include alpine, skiing and avalanche education. David is an aspirant Rock Guide through the American Mountain Guide Association [AMGA], an Ortovox Team Athlete, an expert gear tester at the Gear Institute, an American Institute for Avalanche Awareness and Education [AIARE] Course Leader, holds a Wilderness First Responder [WFR] and is a volunteer member of Mountain Rescue Service [MRS] and Androscoggin Valley Search and Rescue [AVSAR]. In his free time, you will find David blogging, mountain biking, kayaking, hiking, skiing, sharing micro-brews with friends or in the kitchen working on a new recipe in his home town of Conway, New Hampshire. He resides there with his wife, Michelle, his son, Alex and daughter, Madalena.
Climbing Resume
Mount Shuksan, WA • Mt. Rainier, WA • Forbidden Peak, Washington • Multiple winter ascents of Mount Katahdin, Maine • Arctic backcountry ski expedition in Iceland x3 • 100+ ascents of Mount Washington • Winter Presidential Traverse, New Hampshire • Backcountry skiing in New Hampshire, Colorado, Nevada, Washington • Multiple rock climbing trips to North Carolina, West Virginia, Acadia National Park, Red Rocks, Nevada, Joshua Tree, California, Flatirons and Lumpy Ridge, Colorado • Ice climbing to WI5 • Rock climbing to 5.10

Certifications
AMGA Single Pitch Instructor
AIARE Level 3
AIARE Level 1+2 Instructor
Wilderness EMT
Mountain Rescue Service: "A" Team
AVSAR – "Winter Above Treeline Team"
Coby Jacobus was on skis at 3, hockey skates at 4 and adamant at 5 that he preferred an adventure vacation over Disney World. He began alpine skiing in Vermont but transitioned to back country skiing to enjoy the solitude, challenge and untracked powder. He ran Division I cross-country and track at UNH and began enjoying the mountain year round upon graduation. His enthusiasm for the mountains is infectious. Coby enjoys big days in the backcountry, whether it's linking several ravines in a single day on alpine touring skis, long mountain trail runs or multi pitch rock climbs. Nothing gives him more pleasure though than having his dog Miss Gracie enjoy these experiences with him.
Climbing Resume
Countless winter ski ascents and descents of Mount Washington and surrounding area often linking several ravines in a single day • Mount Rainier, WA • Cayambe (18,997ft), Ecuador • Imbabura, Ecuador • Pichincha, Ecuador – Paso de la Muerte Route • Haute Route: Chamonix, France Zermatt, Switzerland • Numerous ski tours near Bishop, CA • AMGA Ski Guides Course, 2014, Salt Lake City, UT • Matterhorn via Hornli Ridge (AD+/III+) • Arctic backcountry ski expedition in Iceland • Ran a one day winter Presidential Traverse (Completed in 6 hours) • Tour Du Mont Blanc (TMB) Ran 120+ miles and 30,000 feet of elevation gain over 6 days circumnavigating the highest peak in the European Alps. • Rock climb up to 5.10a • Ice climb up to WI5
Certifications
AMGA Single Pitch Instructor
AMGA Ski Guide Course
AIARE Pro 1
SOLO Wilderness First Responder
Leave No Trace Trainer
While studying biology and biotechnology at Endicott College, Doug co-founded Endicott's Outdoor Adventure Club, for which he taught sea kayaking and led trips into the White Mountains. Immediately upon graduation, Doug began his life in the vertical world. He spent the next three months in the Canadian Rockies, developing his skills on rock, ice, and in the alpine. He is in constant pursuit of his love of height and the pristine outdoors through rock and ice climbing, skiing, hiking, and paragliding. His desire to teach and share his passion with others has led him from instructing climbing indoors, to a career in technical guiding.
Climbing Resume
Mount Rainier, WA • Ascents of Mt. Columbia, Mt. Olive, and several other peaks in the Canadian Rockies – Numerous ascents of Mt. Washington (summer and winter) – Backcountry ski descents in the Tuckerman Ravine of Mt. Washington and on the surrounding peaks of the Wapta Icefield in Banff National Park, Canada – WI 5 ice climbs – WI 4 multipitch Ice – 5.11 trad climbs and 5.12 sport climbs – Multipitching and cragging throughout New England • Mt Baker, WA • Mt Shuksan, WA • Mt Rainier, WA
Certifications
AST (Avalanche Skills Training) Level II
SOLO Wilderness First Responder
AMGA Single Pitch Instructor
Leave No Trace Trainer
AMGA Rock Guide Course

Sam has spent most of his life in the mountains. Born into a family of avid skiers and outdoor athletes, he got my first taste of the mountains at the age of four, skiing with my family in the Green Mountains of Vermont. Growing up Sam learned how to ski, rock climb, mountaineer and whitewater kayak. After high school he headed West to study Snow Science at Montana State University. His time spent MSU led him to pursue skiing and guiding as a profession. Sam spent the next several years in Utah skiing full time. He has since taken on many guide training courses and certifications and now works as a Senior Guide at Northeast Mountaineering.
Climbing Resume
20+ years skiing/8 years backcountry skiing, 15+ years rock climbing, 7+ years ice climbing, 7+ years mountaineering/alpine climbing
Certifications
AMGA Single Pitch Instructor
AMGA Apprentice Rock Guide
AIARE Pro 1
AIARE Level 1+2 Instructor
AIARE Avalanche Rescue Course
Wilderness First Responder
Austen Bernier – Guide/Operations Manager
Austen grew up right here in "the Valley" amongst the many forests and crags that lie in Mount Washington's shadow.  After spending his college and vagabond years wandering the American West, Europe, and South America, he finally landed back home in New England. When he's not guiding, climbing, or skiing, you can find Austen touching up on foreign languages, or posted up with a good book.
Climbing Resume
Mt Rainier, WA • Mt Baker, WA • Mt Shuksan, WA • 50+ Ascents of Mt Washington, NH •  Mt Katahdin, ME •  Colorado 14ers • Summer/Winter 1 Day Presidential Traverse • Long Trail VT • Cohos Trail NH • NH + VT 4,000 footers • Climbing and Skiing across the U.S., South America, Spain. Rock Climbs up to 5.11. Ice Climbs up to WI5
Certifications
Wilderness EMT
Leave No Trace Trainer
AIARE Instructor
AMGA Apprentice Rock Guide
AMGA Apprentice Alpine Guide
AMGA Ice Instructor Course Completion
Certified AMGA Single Pitch Instructor