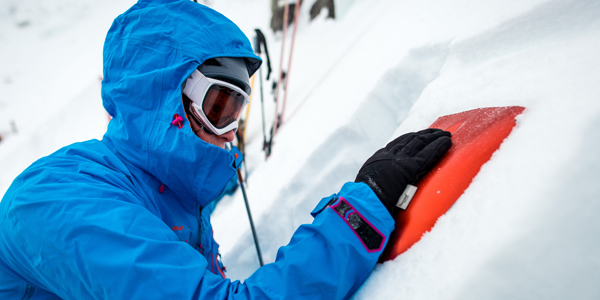 Snow Stability Evaluation
This course takes an in-depth look at an advanced component of the decision making process, evaluating the stability of a slope. Under the guidance of a highly experienced instructor, students will observe the snowpack and practice a wide variety of stability evaluation tests, with a focus on doing them correctly, meaningfully, and safely. Stability evaluation will be placed into the context of one's own decision making process, which will help students have the best information available when making a go-no-go decision. This is a "hands-in-the-snow" class; waterproof clothing is a must.
IMPORTANT BETA
WORKSHOP DETAILS
Length: 8+ Hours
Guide-to-Client: 1:6
[Min. of 3 students]
Price: $125 per person
When: February 26, 2017
RIDING, SKIING OR SNOWSHOES
For this course we will be accessing the backcountry. If you own a touring setup or split board you are welcome to skin with the instructor and consequently ski or ride out at the end of the day. Please bring your own AT or Split Board setups as we do not have these available for rent. If you do not ski or ride, please plan to snowshoe - which can be rented from mtnGEAR.

RENTAL GEAR
For this course, you will need an Avalanche Beacon, Probe and Shovel. These items may be rented for $26.
Most of the required equipment is available for rent from our affiliate mtnGEAR. Workshop Participants will receive a 20% discount on all rental equipment and clothing.

WORKSHOP OBJECTIVES
AIARE AVALANCHE 1 IS A MANDATORY PRE-REQUISITE FOR THIS WORKSHOP
This workshop is designed as a refresher for those who have completed at minimum AIARE Avalanche 1 course or comparable.
Register Today
Learning Outcomes
Student Learning Outcomes
At the end of the Snow Stability Evaluation Workshop the student should be able to:
Describe the common stability tests, their strengths and limitations
Choose an appropriate test at an appropriate location
Conduct stability tests efficiently and correctly
Interpret test results and understand their relationship to the decision making process
Instructional sessions (8+ hours field instruction).
Review Most Common Stability Tests
Understanding The Goals of Stability Testing
The Snowpit/Testing Process

Choosing a Location
Equipment
Digging and Testing

Interpretation of Results
Course Itinerary
ONE DAY WORKSHOP
8:00: Meet at Bunkhouse, Introductions and overview of agenda
---
8:30: Indoor sessions - Relevancy of snowpack observations,
---
10:00: Travel to field site, lunch
---
12:00: Field sessions - snowpack observations & tests
---
4:00-5:00: Return to Bunkhouse, review and debrief


Instructor Bio
JEFF LANE
Jeff began his career in the snow and avalanche world in 2002 working as a caretaker at the base of Tuckerman Ravine. In 2006, he earned a Master's Degree in Outdoor Education and began work as a Snow Ranger for the Mount Washington Avalanche Center. Jeff's rescue experience goes beyond classes and training, he draws experience from several real-life incidents over the last 15 years of working and recreating in avalanche terrain, including some close calls of his own. He believes in the power of hands-on experiential education and will work with you to deepen your understanding and hone your skills.