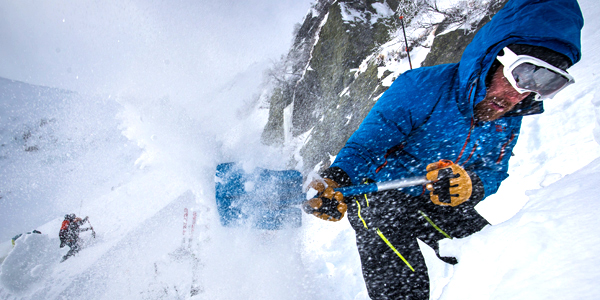 Avalanche Companion Rescue
This course provides a comprehensive overview of the companion rescue process. It's designed for anyone who travels into avalanche terrain - skiers and riders, mountaineers, ice climbers, hikers, rescuers, etc. Topics include the principles of avalanche rescue, avalanche gear and its use, searching with and without avalanche transceivers, and shoveling techniques. The goal is for each student to have a solid grounding in the fundamentals, in order to maximize the chances of a successful rescue. We will spend the day almost entirely in the field, with much of the learning being hands-on. You'll receive one-on-one coaching as well as opportunities to give and receive feedback to your classmates.
IMPORTANT BETA
WORKSHOP DETAILS
Length: 8+ Hours
Guide-to-Client: 1:6
[Min. of 3 students]
Price: $125 per person
When: February 25, 2017
March 25, 2017

RIDING, SKIING OR SNOWSHOES
For this course we will be accessing the backcountry. If you own a touring setup or split board you are welcome to skin with the instructor and consequently ski or ride out at the end of the day. Please bring your own AT or Split Board setups as we do not have these available for rent. If you do not ski or ride, please plan to snowshoe - which can be rented from mtnGEAR.

RENTAL GEAR
For this course, you will need an Avalanche Beacon, Probe and Shovel. These items may be rented for $26.
Most of the required equipment is available for rent from our affiliate mtnGEAR. Workshop Participants will receive a 20% discount on all rental equipment and clothing.

WORKSHOP OBJECTIVES
AIARE AVALANCHE 1 IS A MANDATORY PRE-REQUISITE FOR THIS WORKSHOP
This workshop is designed as a refresher for those who have completed at minimum AIARE Avalanche 1 course or comparable.
Register Today
Learning Outcomes
Student Learning Outcomes
At the end of the Avalanche Companion Rescue Workshop the student should be able to:
Communicate group plans, conduct trailhead checks, and describe travel protocols
Describe priorities & actions to take if involved in an avalanche
Demonstrate effective application of search techniques for one and two beacon burials
Implement methods and strategies used in locating burials without beacons
Explain basic medical treatment of avalanche victims
Instructional sessions (8+ hours field instruction).
Avalanche Rescue Principles

Avalanche accident statistics
Review of avalanche avoidance
Escape and survival techniques if caught
Rescuer safety

Avalanche Gear & Technique

Techniques for using beacons, shovels, and probes
Additional safety gear such as airbag packs, Avalungs, etc.
Organized search team tools

Companion Rescue Process

Scene safety
Organization, communication, and leadership
Beacon search, pinpointing, shoveling techniques
Troubleshooting common problems
Introduction to complex situations, e.g. deep burials, multiple close proximity burials

Avalanche Victim Basic Patient Care
Recognizing needs and Identifying Additional Resources
Course Itinerary
ONE DAY WORKSHOP
8:00 Meet at Bunkhouse, Introductions and overview of agenda
---
8:30 Travel to trailhead or field site, location TBD based on conditions and weather
---
9:30 Field sessions - companion rescue process, beacon search exercises, participant feedback
---
3:00 Return to Bunkhouse
---
3:30-5:00 Review session, questions & answers, debrief the day


Instructor Bio
JEFF LANE
Jeff began his career in the snow and avalanche world in 2002 working as a caretaker at the base of Tuckerman Ravine. In 2006, he earned a Master's Degree in Outdoor Education and began work as a Snow Ranger for the Mount Washington Avalanche Center. Jeff's rescue experience goes beyond classes and training, he draws experience from several real-life incidents over the last 15 years of working and recreating in avalanche terrain, including some close calls of his own. He believes in the power of hands-on experiential education and will work with you to deepen your understanding and hone your skills.