Cayambe and the Ecuador Volcanoes
Ecuador is a climbers' paradise. This trip will take you from the culture rich capital city of Quito to the grassy highlands, over rocky summits, and to the slopes of the country's volcanoes. We will get to experience it all and get a taste of what Ecuador has to offer. Whether you are looking for your first international climb, or have traveled the globe, Ecuador is a great climbing destination which will leave you with lasting memories and an experience like no other.
IMPORTANT BETA
CLIMB DETAILS
Price: $2550 Per Person
Length: 11 days
Guide-to-Client Ratio: 1:4
Difficulty: Strenuous
When: November 2-12, 2022
Type: Mountaineering
Type: Experiential
Deposit: $750
INCLUDED
All Transportation in Ecuador
All Lodging in Ecuador
NEM Guides
Certified Ecuadorian Guide
Climbing permit
Group gear

NOT INCLUDED
Airfare
Additional rentals
Meals
Souvenirs
Gratuity
Travel Insurance
Rescue Insurance

RENTAL GEAR
Most of the required equipment [listed below] is available for rent from our affiliate mtnGEAR. NEM climbers will receive an exclusive discount of 20% discount on all rental equipment and clothing.
BE INFORMED. BE PREPARED.
This trip requires an excellent level of physical fitness and the completion of a one day mountaineering skills course. Participants should be familiar with self arrest, crampon technique, and posses prior climbing experience. We reach very high altitudes on this adventure, so proper training is imperative.

Itinerary
Quito, Rucu pichincha, Fuya Fuya, Imbabura, Cayambe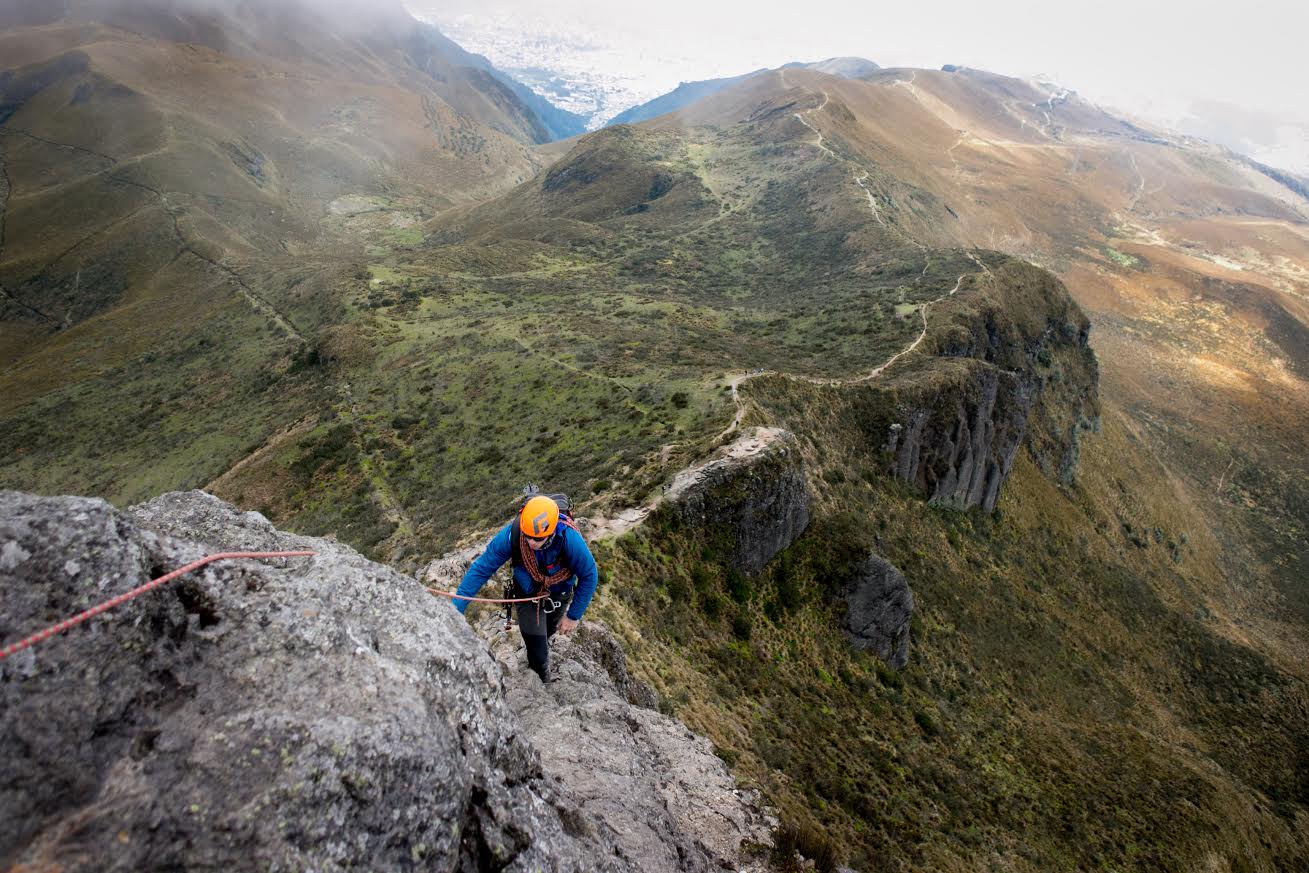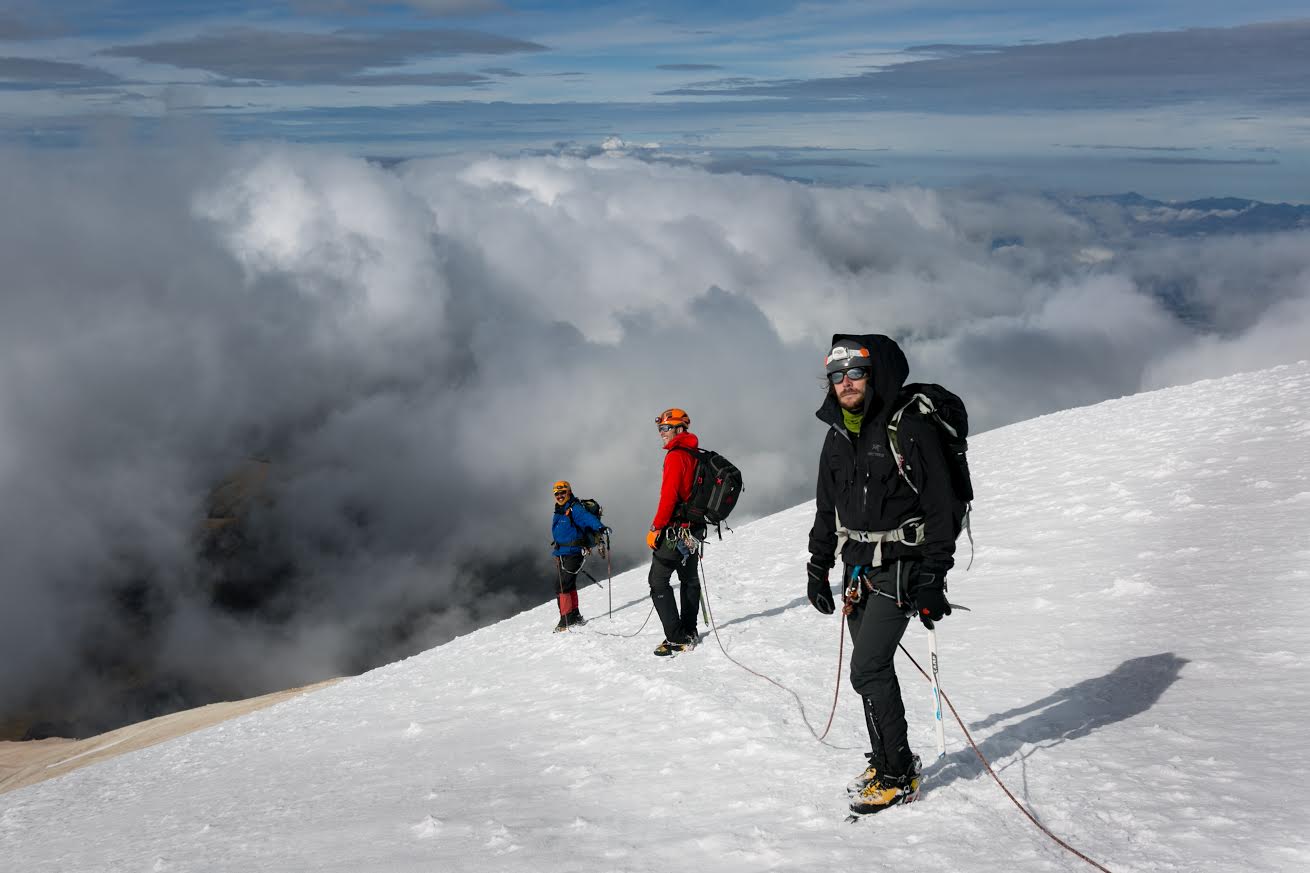 Day 1: Today we arrive in Quito, Ecuador. We will check in to our hotel and get ourselves settled and rested from the long travel day. Many flights arrive in the evening.
Day 2: We will meet for breakfast and an itinerary briefing. You will meet your teammates, NEM guides, as well as receive more information about Ecuador and our itinerary. We will spend the day adjusting to the altitude of Quito (approx 9,000ft). The day is spent sightseeing around the city. In the afternoon, we will take the Teleferiquo (gondola) to 13,000ft for a short hike to watch the sunset over many of the Ecuadorean Volcanoes.
CLIMBING ITINERARY BEGINS
Day 3: Today we will climb our first peak. Rucu Pichincha (15,696ft). We will again, take the Teleferiqo to 13,000ft and begin our climb to the exposed summit. The return trip should take between 6 and 7 hours.
Day 4: We will depart for the town of Otavalo. Along the way, we will stop at the Equator for a quick tour and some interesting experiments that can only be conducted at the middle of the Earth. We will have the evening to explore Otavalo and it's famous marketplace.
Day 5: After a leisurely wake-up we will head out for our second acclimatization peak. Fuya Fuya rises to over 14,000ft and provides a beautiful walk through high alpine meadows to the rocky summits. We will attempt to climb both peaks. After our half-day hike, we will drive back to Otavalo. The evening is free in Otavalo.
Day 6: We will wake up very early and drive 1.5hrs to Imbabura. Our third acclimatization peak is over 15,000ft and will take most of the day. This is a spectacular climb that starts out in fields and ends in a true alpine-feel summit. The climb requires 3rd-4th class terrain near the summit. We plan to be back in Otavalo by 5PM in time for dinner.
Day 7: After two days of climbing we get a rest day. We will have a late breakfast and make last minute purchases at the Otavalo market before heading to the Cayambe Refuge. The drive to the Refuge takes about 2 hours from Otavalo. The last hour is especially rough on a 4-wheel drive track. We are able to drive directly to the refuge at 15,100ft. We will spend the afternoon resting and hydrating. The night will be spent at the refuge to further our acclimatization. A fantastic dinner is included at the refuge.
Day 8: After a delicious breakfast at the refuge, we will climb to the glacier on Cayambe at 16,000ft. The rest of the morning will be spent here practicing roped travel, crampon technique, self and team arrest. In the early afternoon we will descend to the refuge and drive all the way back to town to get a good nights rest at a relatively low altitude before our summit attempt.
Day 9: Today marks the start of our summit attempt. After a late breakfast we will drive back up to the Cayambe refuge. We will eat an early dinner and try to rest before our 11PM wake-up call. A light "breakfast" will be served and we will be on our way to the summit of Cayambe by midnight.
Day 10: With any luck and some good weather, we will ascend the slopes of Cayambe for 6-8 hours before hitting the summit just after sunrise. From the summit of Ecuador's third highest peak (18,996ft) we have unobstructed views of Antisana, Cotopaxi, Chimborazo, Imbabura, and many more high peaks throughout the country. The descent will take about 3-4 hours before loading the truck and beginning our drive to town and a hot meal.
CLIMBING ITINERARY ENDS
Day 11: After breakfast we will make the drive back to Quito. Evening flights home can be made or you may choose to stay another night. Overnight accommodations are not included.
What To Wear
PLEASE BRING THESE ITEMS WITH YOU FROM HOME
When selecting clothing for your adventure, think layers. Choose synthetic materials, wool, or fleece.
Snow pants will suffice instead of soft shell climbing pants and if you have insulating layers and jackets we recommend that you bring them. There will be time to sort through what you should bring and what you leave behind.
Mandatory Gear List
RENTALS AVAILABLE AT CLIMBINGRENTALS.COM
Most of the required equipment [listed below] is available for rent from our affiliate mtnGEAR.
NEM climbers will receive an exclusive discount of 20% discount on all rental equipment and clothing.
Mandatory Items

Guides Pick

[  ] Pack with Waist Strap: A 30-40L pack is the recommended size for one day climbs. Your pack MUST have a waist strap. A backpack will not suffice.
Patagonia Ascensionist Daypack 35L

[  ] Crampons: 10-12 point adjustable crampons designed for mountaineering
Black Diamond Contact Clip


[  ] Ice Axe: An ice axe designed for general mountaineering.
Black Diamond Raven


[  ] Helmet: A lightweight climbing helmet.
Black Diamond Half Dome


[  ] Warm Hat: Wool or synthetic. It should be warm and thin enough to fit underneath a climbing helmet.
Outdoor Research Gradient


[  ] Buff/Neck Gaiter: Buff makes the best option.
Buff


[  ] Ball Hat/Sun Hat: Optional. A lightweight ball cap or sun hat.
[  ] Sun Glasses: A pair of dark-lensed sunglasses with side shields or full wrap-type sunglasses.
Julbo Dolman


[  ] Lightweight glove: One pair of fleece gloves.
OR PL Sensor


[  ] Medium Weight Glove: Wind/water resistant insulated mountain gloves.
OR Alpine Alibi II


[  ] Heavy Insulated Mitten: Wind/water resistant, insulated mittens for protection against wind, snow and cold. These also serve as emergency back-ups if you drop or lose a glove.
Marmot Expedition Mitts


[  ] Light Insulating Layer/Soft Shell Top: A fleece or other insulation layer.
Patagonia R1 Pullover


[  ]Hard Shell Jacket with Hood: Wind/rain Proof. Gore-Tex recommended.
OR Maximus


[  ] Insulated Parka: This item becomes of highest importance when we are faced with poor weather. This should be an expeditionary-type heavy parka that extends well below the waist and above the knees. Goose down is recommended versus synthetic fill. It does not have to be waterproof, but that is a nice feature. The parka is worn primarily at rest breaks on summit day and as an emergency garment if needed. When sizing a parka, allow for several layers to be worn underneath; buy it large. The parka must have an insulated hood.
OR Incandescent Hooded


[  ] Climbing Pants: Synthetic climbing pants offer a wide range of versatility. You can wear them alone on hot days, or in combination with the base layer on cold days. The thickness (insulation quality) should be based on how well you do in the cold. For most of our adventures snow pants will suffice.
OR Ferrosi Men's

OR Ferrosi Women's


[  ] Hard Shell Pants: A pant made of breathable rain and wind-proof material will be needed. Full-length side zippers are required for facilitating quick clothing adjustments over boots and crampons in cold, inclement weather.
Marmot Precip Full Zip


[  ] Mountaineering Boots: Insulated double leather boots are the preferred choice for winter mountaineering. They provide the best insulation as well as a more rigid sole for kicking steps and holding crampons. Lightweight hiking boots without insulation are not acceptable as they don't work well with crampons, or in very cold or wet weather.
La Sportiva G2 SM


[  ] Gaiters: A knee-length pair of gaiters, large enough to fit over your mountaineering boots. This will protect you from catching your crampons on loose clothing.
OR Expedition Crocs


Nutrition & Hydration
Nutrition
It is important to continuously take in calories throughout the day. Every break you should eat a snack during the short 10 to 15 minute rest. Food is the wood to your fire and to keep it stoked it needs constant replenishing. Do not plan on cooking or preparing your snacks in the field. All food should be prepared and packed ready for immediate consumption.
We suggest crackers, pizza, candy bars, jerky, chips, cookies, trail mix, fruits, Gu, energy bars, and hard candies. Add peanut butter, cream cheese, hard cheese, or pepperoni for additional calories and taste. If you enjoy bread items, bagels work well. Include some salty snacks to replenish lost salts.
Hydration
To help prevent cramping and heat related injuries, you will need at least 2 liters of water per day. Water is preferred, but other liquids such as gatorade help replace electrolytes and work well, too! Hydration bladders do not work as they freeze during the winter months. Please leave these at home. Instead, bring 32oz. Wide Mouth Nalgene bottles and insulating parkas if you have them. If not, you can use a sock to insulate each water bottle.
FAQ's
Please read through the following frequently asked questions and answers. These will help you prepare for your trip and get a better understanding of what to expect.
Coming soon. Check back often.