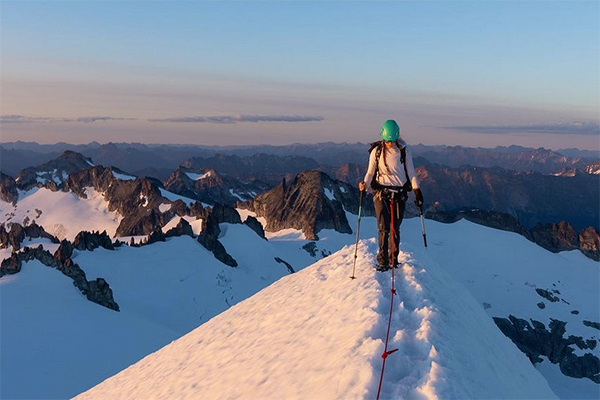 Eldorado Peak
The North Cascades are a climber's playground. They offer big mountain terrain in an unbelievable setting. Their jagged ridges and rocky summits are surrounded by snowfields and glaciers, which will put all of your previous mountaineering skills to the test. On this trip we will attempt Eldorado Peak. Eldorado is the 25th highest mountain in Washington and an all-around gem of a climb. We will climb through dense forests, lush wildflowers and cross glaciers. Eldorado is best known for it's knife-edge summit ridge making it one of the most famous climbs in the Cascades. This is the perfect introductory climb to the North Cascades.
IMPORTANT BETA
CLIMB DETAILS
Price: $950 Per Person
Length: 2 days
Guide-to-Client Ratio: 1:2
Difficulty: Strenuous
When: July 11-12, 2024
Type: Mountaineering
Type: Experiential
INCLUDED
2:1 NEM Guide Ratio
Camping throughout
All Group Gear
Emergency Gear
NCNP Climbing Permit

NOT INCLUDED
Airfare
Transportation
Personal Gear
Lodging when in town (unless listed otherwise)
Meals
Rental gear
Gratuities

RENTAL GEAR
Most of the required equipment [listed below] is available for rent from our affiliate mtnGEAR. NEM climbers will receive an exclusive discount of 20% discount on all rental equipment and clothing.
2024 DATES AVAILABLE
We are now booking July 2024. Do you have a different date in mind? Let us know and we will work to make your dream come true!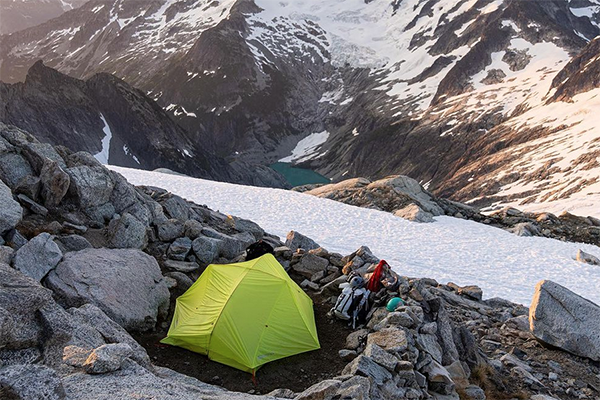 Day 1: Arrival into Seattle, WA. Drive into North Cascades National Park (3hr drive) and meet your guides at the designated campground by 5PM. Overnight at the campground.
CLIMBING ITINERARY BEGINS
Day 2: We will have a fairly strenuous first day as we gain 4000ft on our approach to high camp. The scenery and world-class views will accompany us as we ascend towards the glaciers. Overnight in tents.
Day 3: Summit day begins as the sun crests the horizon. We'll ascend Inspiration Glacier to the base of the East Ridge. We'll follow the knife edge ridge to the summit and enjoy unparalleled views from the heart of the North Cascades! We'll pack up camp and hike out to the cars in the afternoon. Overnight in tents at the campground.
CLIMBING ITINERARY ENDS
Day 4: We will begin the drive back to Seattle and say our goodbyes. Afternoon flights can be booked, but we encourage you to take an extra day and to visit Pike Place Market, the Space Needle, and the amazing city of Seattle.
 Book Online Now
Searching Availability...
How Difficult is the North Cascades Climbing trip?
The mountains in the North Cascades are long climbs with heavy backpacks. They can be very strenuous at times. These peaks require technical rock climbing and long approaches as well as steep snow. Prior rock climbing experience is required. You will need to be in top physical condition.
Do I Need Any Prior Experience?
The rock climbing and rock scrambles are beginner grades. The most difficult climbing is rated 5.6 but mostly it is 4th-low 5th class. Due to the alpine environment, these climbs take on a more serious perspective than rock climbs of harder grades closer to civilization. Prior rock climbing and camping experience are required.
What Are the Age Limits for This Climb?
We encourage participants to be age 16 or over, although exceptions can be made based on previous experience. Participants under the age of 16 will need to submit a climbing resume for review. As long as you are in excellent physical condition, are approved by your doctor, and have are able to legally sign the liability waiver, you are welcome to join us!
How Long are the Climbing Days?
Each day is challenging. At the beginning of the climb altitude is not an issue. However, pack weight is heavy. As we ascend, packs get lighter but altitude takes its toll. Summit day can be 14-16 hours long.
What are the Sleeping Arrangements on the Mountain?
We will provide tents. To minimize the amount of necessary gear, climbers will share a tent. Your tent will be designed to sleep the number of climbers assigned in it [i.e. a 3-person tent will sleep 3 climbers and a 2-person tent will sleep 2 climbers]. We will only make exceptions to this on rare occasions. Please feel free to contact us if you feel you need your own tent.
How Heavy Will My Pack Be?
You can expect a 45lb-55lb pack for the first two days. Summit day will require 10lb-15lb packs.
Why Do We Begin Our Summit Attempt in the Dark?
We get an alpine start for many reasons. In general everything is safer at night when the temperatures are cold and the sun has not begun to melt the snow and ice. The terrain is firmer for easier climbing, snow bridges over crevasses are frozen, the snowpack is more stable and rock fall is less of a hazard.
Where Do I Meet My Guide?
You will meet your guide at the specified campground and/or airbnb. You will receive this information well before departure.
Can I Rent Gear for My Climb?
Yes! We recommend renting boots from the American Alpine Institute in Bellingham, WA. All other rentals can be made through our affiliate climbingrentals.com and we will bring the gear with us.