THE SEVENTY SUMMITS
Come explore the Seven Summits (highest point on each continent), with world-renowned mountain guide, Vernon Tejas. Among many other ground-breaking feats, Vern is the only person to guide the Seven Summits at least ten times each.
The Seven Summits are an epic mountaineering adventure of challenge, perseverance, and excitement. Climbing them typically takes several years to complete and is a feat that relatively few have attempted and even fewer succeeded - only several hundred to date. The Seven Summits are a lofty but obtainable goal and the ultimate dream of many mountaineers. Scaling the highest points on each continent is more than accomplishing a checklist of mountains; the Seven Summits is the adventure of a lifetime! Excerpt from RMI Guides
The Seven Summits: Aconcagua, Carstensz Pyramid, Denali, Mount Elbrus, Everest, Kilimanjaro, Vinson
WHAT TO KNOW
When: March 11, 2017
Time: 7PM Start
Where: Legends Room
Eastern Slope Inn
North Conway, NH
WHAT'S INCLUDED
Included with ticket purchase is admission to the presentation by Vern Tejas. Refreshments & Pizza from Flatbread will be served. Additional beverages will be available for purchase from the bar.
ABOUT VERNON TEJAS
Vern is known for Denali's first solo winter ascent, the first solo of Mt. Vinson (Antarctica's highest), first winter ascent of Mt. Logan (Canada's highest) and as lead guide for Col. Norman Vaughan's first ascent of Mt. Vaughan in remote Antarctica. In 2000, Vern was named one of Alaska's top 50 Athletes of the Century by Sports Illustrated and in 2012 was inducted into the Alaska Sports Hall of Fame. In addition to his fame in the extreme environments of Alaska, Greenland and Antarctica, Vernon's success in guiding people to the summit is simply remarkable. Along with guiding numerous high altitude expeditions, Vern is a ten time summiteer of Everest and an avid adventure racer finishing 10th in 1999 and 13th in 2001 in the Eco-Challenge Race. Vern's guided ascents are an extremely unique blend of his dynamic spirit, climbing expertise and guiding savvy, known throughout the guiding community. Recently Vern had outstanding success Mt. Vinson, Last Degree-South Pole, Denali, Elbrus (Europe's highest) and has guided many of our Everest expeditions this century. He has guided Vinson more than anyone. Notable among his accomplishments on the Seven Summits, Vern climbed and guided all 7 in 134 days (the current speed record), he has climbed all 7 at least 10 times. He also completed all 7 twice within one year. Vern is also the only person in the world to have completed "The Seventy Summits," and first to guide Seven Summits and North and South Poles. With a guitar in hand and a smile on his face, Vernon treats everyone to the remarkable experience of life.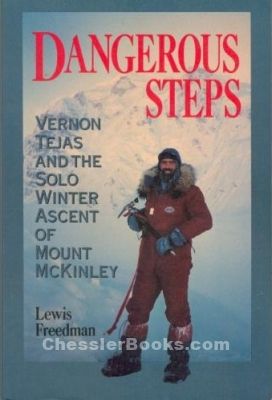 ---
Searching Availability...
To purchase tickets please select the correct date in the booking box.
All purchases are final. No refunds will be available. Space is limited to 30 people so don't delay. Refreshments & pizza from Flatbread Pizza will be served with paid admission. Additional beverages will be available from the bar located next-door to the Legends Room at Eastern Slope Inn.