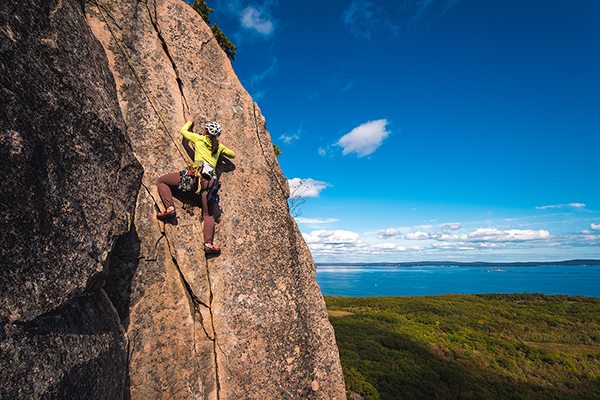 Rock Climbing in Acadia
Rock climbing over the Atlantic Ocean? In Acadia it is possible! This beautiful National Park boasts some amazing rock climbing with views of the ocean! If you are new to the sport or an experienced climber, there is plenty to climb within the park. In addition to world-class climbing, Acadia is home to Cadillac Mountain which is the first place to see the sunrise on the East Coast. The National Park also has carriage roads for biking, beaches for swimming and some amazing hiking options.
---
CLIMB DETAILS
Length: 6 Hours
Guide-to-Client Ratio: 1:2 for multi-pitch and 1:4 for top-roping
Difficulty: You Choose!
When: September 18 - 22
September 25 - October 1
October 6 - 15
Type: Rock Climbing
Type: Experiential
Pricing
1 person: $325 per person
2 people: $225 per person
3 people: $210 per person
4 people: $185 per person

RENTAL GEAR
Most of the required equipment [listed below] is available for rent from our affiliate mtnGEAR. NEM climbers will receive an exclusive discount of 20% discount on all rental equipment and clothing.
Add A Second Day Multi-Pitch Climb
After mastering the basics on top-rope, we put them to use on a multi-pitch climb day two. Climbs are beginner level and vary from several pitches of rock to alpine climbing with hiking and rock climbing mixed.
CLIMB DETAILS
Length: 6-8 Hours
1 Person: $500
2 People: $350

For your adventure you will need one lunch and several snacks for each day. Staying hydrated and well-fed is important.
Nutrition
Your "lunches" are taken in the field throughout the day during short 10 to 15 minute breaks. We suggest crackers, pizza, candy bars, jerky, chips, cookies, trail mix, fruits, Gu, energy bars, and hard candies. Drink mixes such as Gatorade and Kool-Aid help flavor your water. Add peanut butter, cream cheese, hard cheese, or pepperoni for additional calories and taste. If you enjoy bread items, bagels work well. Include some salty snacks to replenish lost salts.
Hydration
To help prevent cramping and heat related injuries, you will need at least 2 liters of water per day. Water is preferred, but other liquids such as gatorade help replace electrolytes and work well, too!
Don't go over the top
When planning, don't bring any items that require extensive preparation or cooking. We are able to provide you with boiling water on overnight adventures, but do not have the ability to actually cook food items.
Our goal is to make your mountain adventure as memorable and comfortable as possible. To do this, you must be properly prepared. We provide all of the technical gear that you will need for an awesome adventure. 
However, we ask that you please bring your own clothing - including but not limited to: comfortable climbing pants or shorts and some insulating layers and jackets. 
When selecting clothing for your adventure, choose synthetic materials to wick away sweat. For your convenience, we have the mandatory gear available for rent! We also have a small selection of clothing available for rent if you are missing anything listed above. Upon completion of registration, you will receive a welcome packet via email with a gear rental form that you will complete and return to reserve the gear you need for you adventure!
| | |
| --- | --- |
| Mandatory Items | Guides Pick |
| [  ] Pack with Waist Strap: A 3000 cu. in. pack is the recommended size for one day climbs. Your pack MUST have a waist strap. A backpack will not suffice. | Camp M4 |
| [  ] Climbing Harness: A comfortable, adjustable climbing harness. | Camp Group II |
| [  ] Helmet: A lightweight climbing helmet. | Camp Rock Star |
| [  ] Belay Device | |
| [  ] Rock Climbing Shoes | |
Please read through the following frequently asked questions and answers. These will help you prepare for your trip and get a better understanding of what to expect. Thanks!
What time does the program begin?
We will meet at 8AM at our bunkhouse in Bartlett, NH. We will take 30 minutes to outfit you with any rental gear you need and head out to the cliffs.
What gear is needed for Rock Climbing?
The mandatory items include rock shoes, harness, helmet, backpack, food, water, and proper clothing. The gear rental package costs $49 and includes harness, shoes, belay device, and helmet.
Will sneakers work?
Unfortunately no. You will need proper rock shoes for rock climbing.
How long do we climb for?
We usually arrive at the cliff between 9AM and 9:30AM. We will arrive back at the bunkhouse around 3PM depending on what climb we do.
What should I wear?
Please come dressed in appropriate clothing. Layering is the best practice in the outdoors as it allows you to manage your body temperature. Be sure to have an extra warm jacket for when you are belaying.
Is it safe?
Rock climbing can be very safe when conducted properly, especially top-roping. Our guides are trained to mitigate the dangers of falling rock and other inherent hazards.
How difficult is it to rock climb?
The difficulty of the climb can be varied depending on your experience level and goals for the day.
How many people are in a group?
We offer a maximum ratio of 4 clients per guide for top-rope climbing and a maximum of 2 clients per guide for multi-pitch climbs.
Are there age restrictions?
As long as you are approved for vigorous activity and/or you have a parent/guardian signature and you fit into the harness and mountaineering boots, you are welcome to join us!
 Book Online Now
Searching Availability...
---
---