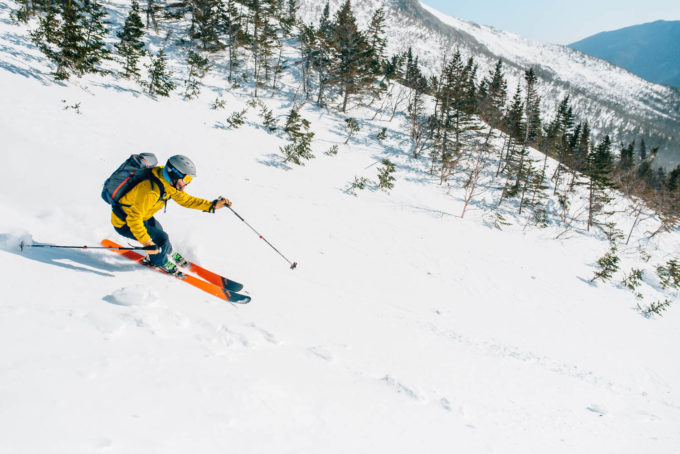 ONE DAY AIARE REFRESHER
Have you completed an AIARE Level 1 or Level II course but feel like you could use a refresher? This one-day course will get you back in the right mindset for backcountry touring. You will work alongside the other participants to plan your tours, travel and decide as a team and ride in some bigger terrain! Our guides will coach you along the way, help you put the pieces together and provide an added level of safety to your tour.
Participants need to be competent skiing advanced [black] terrain at their local ski hill and have confidence riding 35 degree terrain in the backcountry. Participants will also need experience using crampons and an ice axe. These tours will require approximately 6 miles of travel and 3500ft of elevation gain. Participants should be comfortable putting in 6-8 hours.

IMPORTANT BETA
PROGRAM DETAILS
Length: 1 Day
Guide-to-Client Ratio: 1:4
Difficulty: Intermediate
When: January 24, February 3, April 2
Type: Backcountry Skiing
Type: Mostly Experiential 
RENTAL GEAR
Most of the required equipment [listed below]  is available for rent from our affiliate mtnGEAR.
Visit mtnGEAR for Rental Prices
AT Skis and Splitboards can be rented from our friends at Ski The Whites

BE INFORMED. BE PREPARED.
Itinerary
AIARE ALUMNI BACKCOUNTRY TOURING
Meet at The Bunkhouse at 7am
7-10am: Check in, Review and morning meeting
10am-5pm: Touring
5pm: Departure
This Course Will Include:
AM meeting
Review of the AIARE Framework
Q+A Session
Group management in avalanche terrain
Monitor conditions specific to your avalanche problem
Decision making in avalanche terrain
ski descents in avalanche terrain*
Group communication
End of day debrief
*Based on group abilities, snow and weather conditions.
What To Wear
PLEASE BRING THESE ITEMS WITH YOU FROM HOME
When selecting clothing for your adventure, think layers. Choose synthetic materials, wool, or fleece.
The saying is "Cotton Kills." It will absorb sweat and then freeze - increasing the chances of hypothermia.
Snow pants will suffice instead of soft shell climbing pants and if you have insulating layers and jackets we recommend that you bring them. There will be time to sort through what you should bring and what you leave behind.
Mandatory Gear List
RENTALS AVAILABLE AT CLIMBINGRENTALS.COM
Most of the required equipment [listed below] is available for rent from our affiliate mtnGEAR.
NEM students will receive an exclusive discount of 20% discount on all rental equipment and clothing.
Mandatory Items

Guides Pick

[ ] Pack with Waist Strap: A 35-45L pack is the recommended size for one day tours. Your pack MUST have a waist strap and be specific for ski touring. A backpack will not suffice.
Black Diamond Dawn Patrol
[ ] Helmet: A ski helmet.
Smith Vantage
Smith Vantage [W]
[ ] Warm Hat: Wool or synthetic. It should be warm and thin enough to fit underneath a climbing helmet.
OR Gradient Hat
[ ] Buff/Neck Gaiter: Buff makes the best option.
Buff Merino Wool
[ ] Ball Hat/Sun Hat: Optional. A lightweight ball cap or sun hat.
[ ] Sun Glasses: A pair of dark-lensed sunglasses with side shields or full wrap-type sunglasses.
Julbo Tamang
[ ] Goggles: Goggles designed for skiing.
Julbo Airflux
[ ] Lightweight glove: One pair of fleece gloves.
OR Sensor
OR Catalyzer [W]
[ ] Medium Weight Glove: Wind/water resistant insulated mountain gloves.
OR Ambit
OR Ambit [W]
[ ] Heavy Insulated Mitten: Wind/water resistant, insulated mittens for protection against wind, snow and cold. These also serve as emergency back-ups if you drop or lose a glove.
OR High Camp
OR Highcamp [W]
[ ] Light Insulating Layer/Soft Shell Top: A fleece or other insulation layer.
Arcteryx Gamma MX Hoody
Arcteryx Gamma MX Hoody [W]
[ ]Hard Shell Jacket with Hood: Wind/rain Proof. Gore-Tex recommended.
Arcteryx Beta LT
Arcteryx Beta SL [W]
[ ] Insulated Parka: This item becomes of highest importance when we are faced with poor weather. This should be an expeditionary-type heavy parka that extends well below the waist and above the knees. Goose down is recommended versus synthetic fill. It does not have to be waterproof, but that is a nice feature. The parka is worn primarily at rest breaks on summit day and as an emergency garment if needed. When sizing a parka, allow for several layers to be worn underneath; buy it large. The parka must have an insulated hood.
OR Incandescent
Arcteryx Cerium LT [W]
[ ] Skiing Pants: Synthetic skiing pants offer a wide range of versatility. You can wear them alone on hot days, or in combination with the base layer on cold days. The thickness (insulation quality) should be based on how well you do in the cold. For most of our adventures snow pants will suffice.
OR Trailbreaker
OR Trailbreaker [W]
[ ] Touring Ski Boots: Designed for alpine touring and backcountry skiing. Allow for easy walking and click in for downhill travel.
Dynafit TLT7 Expedition
Dynafit TLT7 Expedition [W]
[ ] Ski Poles: Collapsible trekking poles.
Black Diamond Ergo Cork
[ ] Headlamp
Petzl Reactik
[ ] Voile ski strap
 
[ ] Ski Skins Cut and sized for your skis.
G3 Alpinist
[ ] Boot crampons
Petzl Leopard
[ ] 50cm Ice Axe
Petzl Gully
Visit mtnGEAR for Rental Prices
FAQ's
Please read through the following frequently asked questions and answers. These will help you prepare for your trip and get a better understanding of what to expect.
Do I need any prior experience?
Yes. Participants will need to have experience in the backcountry and be strong downhill riders. Experience with ice axe and crampons is required.
What happens if the weather doesn't cooperate?
We will go out in most weather conditions. If it is forecast to rain or the riding conditions will be poor, we may reschedule.
Am I supposed to tip my guide(s)?
Tips are never expected, however if you think your guide did a great job, tips are welcomed and appreciated. A normal tip is 20% of the guide fees or $20 per guide per day.
Can I rent the gear that I do not own?
Most of the required equipment is available for rent from our affiliate mtnGEAR. NEM guests will receive an exclusive discount of 20% discount on all rental equipment and clothing. A separate reservation is required via climbingrentals.com
Where should I stay?
We recommend The Bunkhouse at Northeast Mountaineering. For your convenience, we offer co-ed, hostel-style accommodations on site. The cost is $45 per person. To maximize your experience, we recommend that you stay in the area the night before your tour.
How do I find out when and where to meet?
Upon completion of your registration you will get a confirmation email with a link to all the pertinent information. You will be asked to secure your rental equipment and read through the welcome information to be prepared and on time for your course.

Book Online Now
Searching Availability...