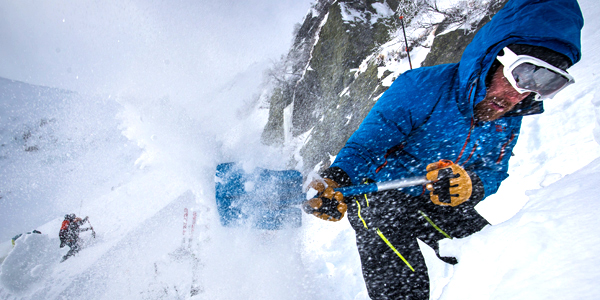 AIARE 1: Decision Making in Avalanche Terrain
Students can expect to develop a good grounding in how to prepare for and carry out a trip, to understand basic decision making while in the field, and to learn rescue techniques required to find and dig up a buried person (if an avalanche occurs and someone in the party is caught).
A final debrief includes a knowledge quiz to test student comprehension and to give feedback to instructors on instructional tools. Students are encouraged and counseled on how to apply the skills learned and told that no course can fully guarantee safety, either during or after course completion. A link is made to a future AIARE 2 course.
IMPORTANT BETA
LODGING INCLUDED*
2 nights at The Bunkhouse at Northeast Mountaineering
*As space permits
COURSE DETAILS
Length: 3 Days [24 Hours]
Guide-to-Client: 2:12
Price: $350 per person

2016-2017 DATES
January 6-8 [sold out]
January 13-15 [sold out]
January 20-22 [sold out]
February 3-5 [sold out]
February 10-12
March 3-5
March 17-19
RENTAL GEAR
For this course, you will need an Avalanche Beacon, Probe and Shovel. These items may be rented for $50.
Most of the required equipment is available for rent from our affiliate mtnGEAR. AIARE Participants will receive an exclusive discount of 50% beacon, probe and shovel and an additional 20% discount on all rental equipment and clothing.

AIARE 1 COURSE OBJECTIVES
Learning Outcomes
Student Learning Outcomes
At the end of the AIARE 1 course the student should be able to:
Plan and prepare for travel in avalanche terrain.
Recognize avalanche terrain.
Describe a basic framework for making decisions in avalanche terrain.
Learn and apply effective companion rescue.
Instructional sessions (24 hours including both class and field instruction).
Introduction to the Avalanche Phenomena

Types and characteristics of avalanches
Avalanche motion
Size classification
The mountain snowpack: an introduction to metamorphism and layering

Observations and Information Gathering

Field observation techniques
Snowpack tests: rutschblock, compression test
Avalanche danger factors or "Red Flags"
Observation checklist
Avalanche danger scale

Trip Planning and Preparation

Avalanche terrain recognition, assessment, and selection
Route finding and travel techniques
Decision making and Human Factors

Companion Rescue and Equipment
Course Itinerary
SKIING, RIDING OR SNOWSHOEING
For this course we will be accessing the backcountry. If you own a touring setup or split board you are welcome to skin with the instructor and consequently ski or ride out at the end of the day. Please bring your own AT or Split Board setups as we do not have these available for rent. If you do not ski or ride, please plan to snowshoe - which can be rented from mtnGEAR.
DAY 1
---
9:00:
9:00 Meet at The Bunkhouse, Bartlett NH, 1054 NH-16, Glen, NH 03838
---
9:15:
Travel to classroom at Jackson Public Library, 52 Main St, Jackson, NH 03846
---
9:30-10:30:
Introductions, Ice Breaker, Agenda, Course Goals, Logistics
---
10:30-11:00:
Decision Making, Case Study 10 minute break
---
11:10-12:00:
Avalanche Types & Character
---
12:00-12:45:
Lunch Break
---
12:45-1:30:
Companion Rescue, Indoor
---
1:30-3:30:
Field Session, Trailhead Function Checks, Companion Rescue
---
3:30-4:30:
Avalanche Terrain
---
4:30-5:00:
Logistics for Day 2, Homework Assignments
---
DAY 2
---
8:00-8:15:
Review of Day 1 Homework
---
8:15-9:15:
Formation of Layers in the Mountain Snowpack
---
9:15-10:15:
Field Observation Techniques and Recording, 10 minute break
---
10:25-11:25:
Planning and Prep (demo Trip Plan, Communication Checklist)
---
11:25-12:00:
Travel Wisely
---
12:00-1:00:
Lunch/Travel to Trailhead
---
1:00-4:30:
Field Session, Range Checks, Observational Outing
---
4:30-5:00:
Review Obs, Logistics for Day 3, map preview, homework assignments
DAY 3
---
8:00:
Meet at PNVC pack room, Morning Trip Planning, Tour, return to pack room, 3:30-4:30 Review the tour, debrief the course, course close
 Book Online Now
Searching Availability...