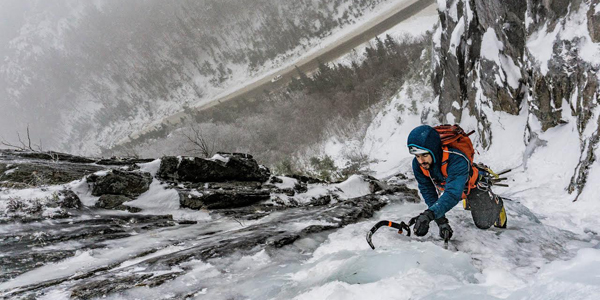 Ice Accelerated: 2 Days
On day one we will introduce you to ice climbing, using a safe top-rope system. We will teach you how to belay, and proper climbing techniques. If you can demonstrate that you have a solid understanding of these skills plus how to belay a leader, we will move on to multi-pitch. On day two your NEM guide will take you on an ice route that best fits your skill and comfort level. This can range from a one-pitch lead/follow scenario, or a multi-pitch climb on one of our world class cliffs in the area. This course is ideal for all ages and skills levels from beginner to advanced. We cater the course to you! No prior experience is required.
IMPORTANT BETA
CLIMB DETAILS
Length: 2 Days
Guide-to-Client Ratio: 1:2
Difficulty: You Choose!
When: January - April as Conditions Permit
Type: Ice Climbing
Type: Experiential
Pricing
1 person: $550 per person
2 people: $350 per person

RENTAL GEAR
Most of the required equipment [listed below] is available for rent from our affiliate mtnGEAR. NEM climbers will receive an exclusive discount of 20% discount on all rental equipment and clothing.