On December 1st we headed up Mt. Washington for the first time in awhile. We definitely have some work to do getting used to the cold and wind again. What we would consider balmy in mid winter felt like the coldest day to date on the mountain. We met Ashwin and Shyam, brothers from New Jersey who left their storm battered home state for some time away in the mountains. Unfortunately they experienced an illness the day before their climb. With their 6 hour drive fresh in their memory, they decided to give it a shot anyways.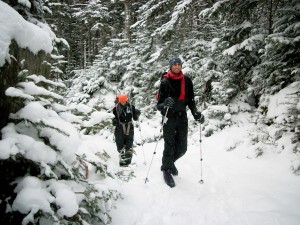 We headed up the Tuckerman Ravine Trail in cold, snowy conditions that stayed with us throughout the climb. The previous night 9 inches of snow blanketed the mountain. We tackled the wide, low angled Tux trail in 2 sections and were at the Lions Head junction in great time. The wear and tear of climbing Mt. Washington soon took hold of our climber who was coming off the illness. He fought on to treeline. Unfortunately the clouds prevented much of any view except for the occasional break to see the Boot Spur ridge or the trails on Wildcat. We climbed halfway to Lions Head before leg cramps took hold of our recovering climber and ended the climb. Corey started the descent with him as Brett tagged Lions Head with the second brother.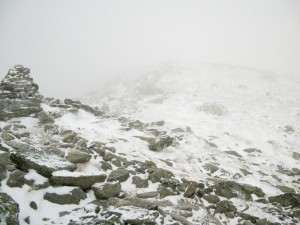 Corey led slowly down to the Hermit Lake shelters and the duo hung out in the shelter waiting for the others to catch up. Once everyone was reunited, the descent continued.
It was a great day on the mountain, as most are, and a perfect climb to get back into the weather and terrain of Mt. Washington.