On January 26th we climbed Franconia Ridge with a bunch of guys who climbed Mt. Washington with us last year. The day was clear and cold. It took us nearly 3 hours to reach the ridge by the way of the Falling Waters Trail. At treeline we were met with a light breeze that cut through our layers and chilled us.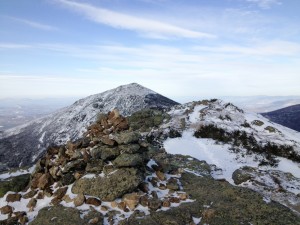 Two turned back at the top of Mt. Lincoln due to leg cramps and 6 continued on across the ridge and over Lafayette.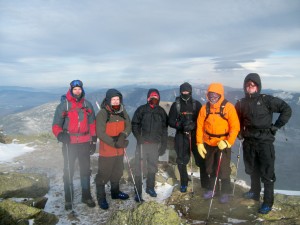 From the summit of Lafayette we had an unobstructed view of Mt. Washington in the East. We couldn't stay long as the wind chills were close to -40 and some folks had frozen goggles. We scurried down from the summit to treeline looking to escape the wind.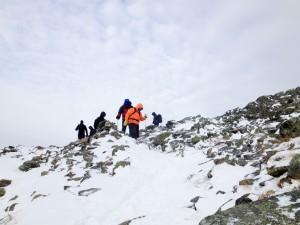 After a break a the Greenleaf hut we started down Old Bridle Path and were treated to a fantastic sunset on the ledges.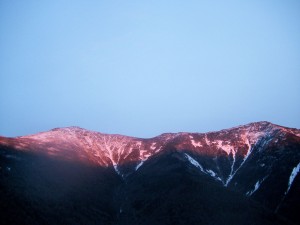 The 27th was the start of our two day skills course. We spent the morning in the warmth of the bunkhouse getting to know our gear and learning knots. The afternoon was spent on Willies Slide learning crampon technique and self arrest. We also learned how to travel as a rope team. Day two found us at Cathedral Ledge where we spent some time on running belays, belaying, and rappelling.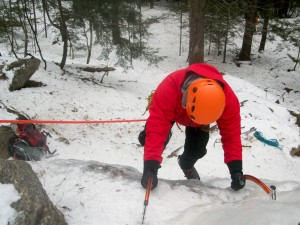 The course ended at the bunkhouse with topics including snow anchors, anchor construction, and crevasse rescue.
This Past weekend we had two ice climbing courses and a climb of Mt. Washington. The trip up Washington took 11.5 hours round trip but 3 of the 6 pushed on through bitter cold temps to reach the summit at 2:45PM, and descending the last 2 hours in the dark.
It was super busy at Frankenstein as it was Ice Fest this weekend which brings in hundreds of climbers from throughout the country. We secured our spot on the cliff and climbed ice all day. The ice was wet which froze the ropes pretty quickly.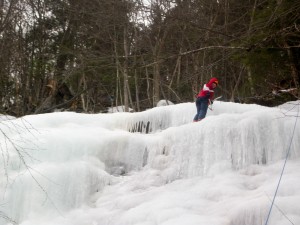 The following day was better weather than the last and we once again dodged the crowds to some extent and set up our ropes. We climbed in the sun until it dropped behind Frankenstein.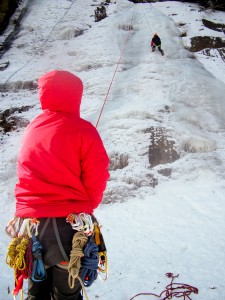 It's been a busy few weeks here and it's only going to get busier! We are super excited to have our bunkhouse finally open and spending time with our clients before and after the climbing!