Howdy Folks! Once again, we have been slacking on the blog posts and we apologize! We have had yet another amazing winter season, but it's not over! We feared the ice season would be over in Mid-March but a big storm dropped about a foot and a half of new snow which gave the ice a boost for a few more weeks of climbing! I (Corey) was especially psyched by this as I took a hiatus to Hawaii in Mid March and feared there would be no more ice to climb when I returned.
I got out on the ice for the last time this season on Saturday. This past week has done a number on the ice however and we are now officially finished with ice and looking towards rock!
We have been climbing ice and mountains all over the Presidential Range this past month.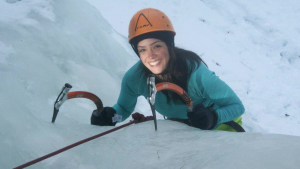 March saw us attempting a Presidential Traverse, Climbing Madison and Adams with a father/daughter duo, skiing in Tuckerman Ravine, and several climbs of Mt. Washington culminating in a bluebird ascent this Saturday. We have had some super busy weekends and our new guides came in clutch for us during the peak of ice season.
Now that ice season has come to a crashing halt, we are continuing to run Mt. Washington climbs throughout the year and of course we are gearing up for rock climbing. This year we will offer climbs in Massachusetts, Rumney, and the Mt. Washington Valley. We have updated our website as well and added more courses and climbs. We are excited to offer 2 and 3 days of rock climbing.
The bunkhouse has been picking up as well and only in it's 3rd month of being open we are regularly having folks drop in to stay with us without being one of our climbers. We are extremely excited to see what the summer hiking/climbing season brings for the bunkhouse.
Finally, and this is a big one, we will be offering a Wilderness First Aid AND a Wilderness First Responder Course this summer. The Wilderness First Aid course will run from 5/18-5/19 and costs $199 with lodging included. The First Responder Course will run from 8/7-8/11 and costs $750 with lodging included. These are the lowest rates around!! Get your friends together because you do not want to miss these courses taught by Wilderness Medical Associates. Click the links below for more info and to sign up!
That's all for now! Stay tuned as our spring season progresses.