What a weekend! I couldn't have asked for better weather. Temps in the 60's and sunshine galore. I took full advantage of it and got some climbing in. On Saturday I climbed "Thin Air" on the Cathedral Ledge. We got quite a late start and were roping up at 7PM! We linked pitch one and two. The real first pitch was an easy 5.2/5.3 grade. The traverse on pitch 2 is enough to get even a seasoned climber's heart rate up when you are facing a pretty decent swing. With some delicate moves we were at the second belay as the sun was low in the sky. By the time we were headed up again, the sun had set and we were climbing with lingering light but still determined to complete the climb. Again we skipped the 3rd belay and linked pitches 3 and 4. As we exited the chimney on the usual pitch 3, we were engulfed by darkness. We climbed the remaining bit with headlamps. The cliff is a whole new place after dark. Everything was quiet, peaceful, and the weather was awesome. We enjoyed watching all of the lights come on in the valley.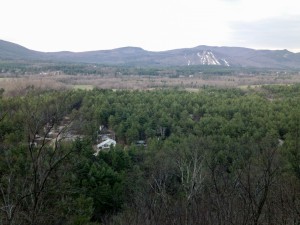 We completed the climb without incident and walked off the top and back to the bunkhouse for a much deserved rest.
NEM Guide, Vincent Dude, had two climbers for Mt. Washington. They made the summit and had unbelievable weather with hardly a breathe of wind. Great job guys! Vincent then proceeded to join us for our climb of Thin Air following a day on Washington!
Sunday I was back in Massachusetts guiding two folks on rock at Crow Hill. After a snowy winter, 70 degrees seems downright hot, but I wasn't complaining. It sure is nice to climb without shivering at belays. We spent some time on Beginners Blessing (5.4) and Pine Tree (5.4). We finished off the day with some rappelling. It was a beautiful day and I had great company.
Also, we will be making a trip out to Smith Rock in Oregon this July for some rock climbing. $400/person. Beginners and experienced climbers are welcome! Don't miss this awesome opportunity. Contact us for more info.