Well we made the mistake of blinking and now the Summer is nearly coming to an end! I can't believe how fast June and July have gone by! It seems like only a few weeks ago we were getting our last ice climbs in for the season! Although it has flown by, we have had some fantastic adventures this Summer!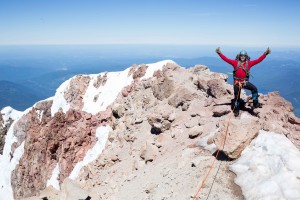 In June we began our Waterfall Rappelling program for the Summer. We love this time of year. The weather is warm, the water is cold and we get to see hundreds of new faces! Waterfall Rappelling keeps our guides busy throughout the Summer! If you haven't tried it yet, you need to come see what the hype is all about. There is no better way to cool down this Summer and spend a day with your friends.
In July we closed down shop and headed West for some mountaineering in the Pacific Northwest. We flew into Portland, OR and proceeded to fore-go sleep and climb Mt. Hood. In total we stayed awake for 40 hours straight and made the summit, tired, but in great spirits. We then drove North to Mt. Rainier. We climbed for 3 days and made it to the 14,410ft summit just as the sun crested the horizon.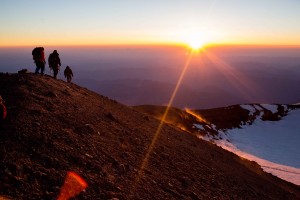 . We had a very successful trip so far but we had one more mountain on our tick list. Mt. Shuskan, in the North Cascades, is one of the most photographed mountains in the world. The mountain is beautiful from all angles and the steep summit pyramid is intimidating and exposed. We chose the Sulphide Glacier route. In 2 days we ascended to high camp and made our summit attempt.
. For a more detailed write-up on our trip you can read NEM Guide Mike Cherim's blog post. He does a really nice job summing it up.
We also announced our Nepal Expedition this Summer. From October 11 – November 4th we will be trekking and climbing in the Khumbu and Gokyo valleys of the Himalaya. Come join us for an unforgettable journey into the range of the highest mountains on Earth!
Finally, as we look forward to the Fall, we are naturally excited for Rock Climbing! Fall offers cool days, less rain, no bugs, and foliage! It is the perfect time to get out there and take on the routes you have had your sights on all Summer.
As always, climb safe and get outside!
Corey