NEPAL FUNDRAISER
We are very excited for our upcoming climb of Mt. Washington on October 24th-25th! This Summit at Sunrise climb will benefit the victims of the Nepal Earthquake. This country has greatly affected our lives. For anyone who has been to this part of the world has experienced the amazing people who never let a smile leave their face. Despite all of their trials, limited resources and sometimes primitive lifestyle, they remain happy, energetic, and their spirit never dampens. They deserve our help. Small contributions go a LONG way in Nepal. $5USD is $500 rupees. Just imagine what $200 can do in Nepal. The devastation no longer fills our new feeds on social media, the hype is gone in the USA, we no longer see the suffering on the news. Nepal still needs our help. The rebuilding process will take years and years in a country that has so little resources. On my trips to Nepal I watched men breaking rocks with a homemade sledge hammer made out of a stick with another rock attached to it. I have seen countless people in their retirement age carrying 70-100lbs or more. These people are the most determined, hard working, and joyful people you will meet in your life. They just do not have the means to rebuild quickly. Many villages are still leveled and the residents are living in tarp structures. Let's show them that we care! They do so much for those who visit their country, the least we can do is climb a mountain for them!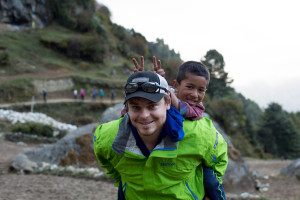 If you are looking to help…
Visit www.Aidclimb.com
Join our AIDClimb or donate to the cause.
Visit Nepal (they rely on our tourist dollars)
Donate to many of the other wonderful organizations working in Nepal.
Be aware that the Nepal government is well-known for corruption. In many cases the donated money never reaches its intended destination. We are formulating a plan to get our donations directly to families in Nepal bypassing the government. These donations will be delivered directly to where it is needed most.
ROCK CLIMBING DEAL
We are running an early bird special for rock climbing. Only 2 weeks left to purchase the deal!! You can use this to book an Intro to Rock Climbing course, a multi-pitch climb, or a rock climbing skills course to practice anchor building and other skills.
2 consecutive days of Rock Climbing for $245!! Book 2 people for $315. For use between September 1 and October 31.
Use Discount Code "earlyrock" to book online. A 30% savings!
Must book by September 14th.