HAVING FUN IS THE KEY TO LIFE
While scrolling through our Instagram feed recently, I came upon this post from @himalayanskier. The caption perfectly sums up how I feel about climbing, outdoor adventure, and the mountains in general. In fact, that is basically our number one message to those who climb with NEM. If you are not having fun, why are you out there?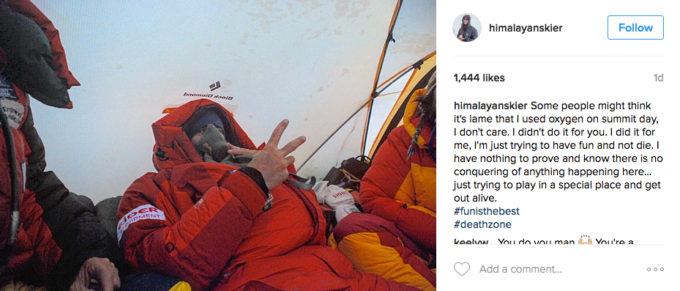 THE ONE WHO HAS THE MOST FUN HAS THE MOST SUCCESS
If you are having fun and being safe, you are doing it right. Professional athletes are forced to push themselves to the brink just to stay relevant. Each ad, each video aims to one-up the last one. Who can out-do themselves or another? There is a lot of competition and pressure on these athletes and I can now see it trickling down to even the weekend warriors. Today we have Instagram, Facebook, SnapChat and a whole list of social media sites and forums. So many places to share our latest outdoor pursuit, but does it come with a cost?

LEAVE THE SOCIAL STIGMAS BEHIND
Despite what the outdoor industry may have you believing, I like to think you don't have to risk life and limb to enjoy the outdoors. The outdoors are for everyone, of every level of fitness, of every age, of every background. What makes an ice climber better than a snowshoer? The answer is nothing. Nothing at all. There are so many opinions out there about how the outdoors should be enjoyed. Backcountry skiing is better than the groomers, climbers are superior to hikers, the use of a rope is cheating and in the case of Himalayan climbers…oxygen is also cheating. All of these stigmas exist. I have seen them played out over and over again and it has me rethinking how I view outdoor recreation as a whole.

WE OFTEN SHARE A COMMON VISION: HAVE FUN!
Is solo hiking forbidden? Who are we to decide what others do in their spare time or how they enjoy the outdoors? Is solo climbing insane? That is only a decision that can be made by the person who is making the climb. From my viewpoint, we are all in the backcountry for the same exact reasons, and those reasons are ultimately the only things that matters. I journey to the backcountry to hang out with friends, get away from technology and the high speed nature of our society, get some exercise, enjoy the beauty of nature, explore, and have a great time doing it. Whether I am snowshoeing, skiing, climbing, trail running, hiking or floating a lazy river, I am still out there for the same reasons. I suspect many others are in the same exact mindset.
Get out there! Enjoy the outdoors. Be responsible and respectful. Be safe and HAVE FUN!!