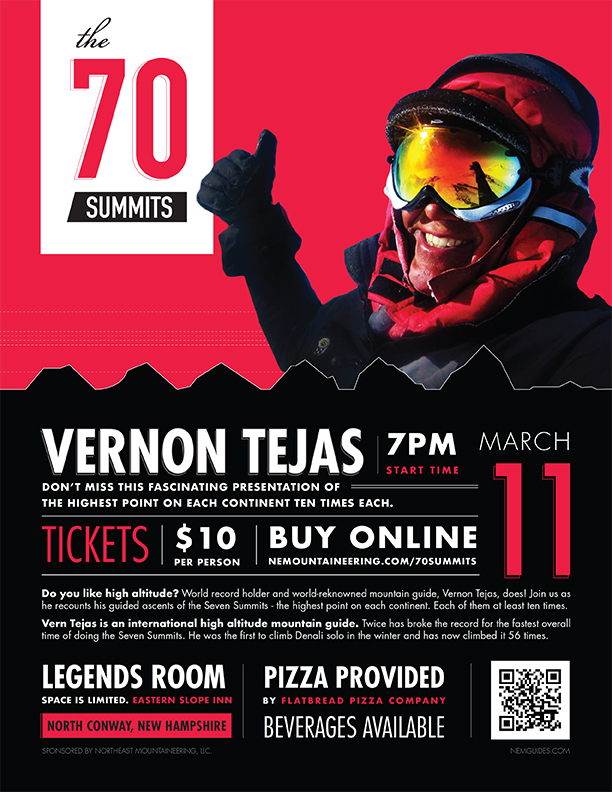 This Saturday, March 11!
Join us for a memorable presentation by one of the most accomplished mountain guides alive. Vern will share is stories and recount his countless expeditions to the world's highest peaks.
Meet Vernon Tejas
Vern Tejas is an international high altitude mountain guide. He is known for Denali's first solo winter ascent, the first solo of Mt. Vinson (Antarctica's highest), first winter ascent of Mt. Logan (Canada's highest) and as lead guide for Col. Norman Vaughan's first ascent of Mt. Vaughan in remote Antarctica. In 2000, Vern was named one of Alaska's top 50 Athletes of the Century by Sports Illustrated and in 2012 was inducted into the Alaska Sports Hall of Fame. In addition to his fame in the extreme environments of Alaska, Greenland and Antarctica, Vernon's success in guiding people to the summit is simply remarkable. Along with guiding numerous high altitude expeditions, Vern is a ten time summiteer of Everest and an avid adventure racer finishing 10th in 1999 and 13th in 2001 in the Eco-Challenge Race. Vern's guided ascents are an extremely unique blend of his dynamic spirit, climbing expertise and guiding savvy, known throughout the guiding community. Recently Vern had outstanding success Mt. Vinson, Last Degree-South Pole, Denali, Elbrus (Europe's highest) and has guided many of our Everest expeditions this century. He has guided Vinson more than anyone. Notable among his accomplishments on the Seven Summits, Vern climbed and guided all 7 in 134 days (the current speed record), he has climbed all 7 at least 10 times. He also completed all 7 twice within one year. Vern is also the only person in the world to have completed "The Seventy Summits," and first to guide Seven Summits and North and South Poles. With a guitar in hand and a smile on his face, Vernon treats everyone to the remarkable experience of life. Vern Lives outside of Woodstock NY with his co-guide Carole when they are not guiding all over the world.
Significant Ascents
First person to climb Seven Summits 10 times
Mt Everest (10 guided summit ascents)
Denali (55 guided, 1st solo winter ascent, 1st paraglider descent, 14:50 speed ascent)
Elbrus (36 guided & speed 3:20 ascent from hut)
Aconcagua (25 guided & 8:02 speed ascent)
Carstensz Pyramid (3 Guided, via Jungle route)
Vinson (36 guided & personal,1st solo ascent, 10:20 speed ascent, 1st paraglide descent)
Kilimanjaro (15 guided & 10:45 speed ascent)
Greenland (world's northernmost mountain)
Mt. Hunter (first winter ascent), Alaska
Mt. Logan (first winter ascent), Canada
Mt. Blanc (3 guided & personal), Rainier (2 guided), Cho-oyu (1 guided)
Chimborazo, Matterhorn, Kinabalu, Cotopaxi
Peru: Urus, Ishinca, Pisco

Significant Explorations
1st Traverse of Wrangell-St. Elias Range
Ski Mt. Guide Shackleton Traverse x 2
First Wheeled Crossing of Antarctica
Ski Guide Last Degree to South Pole x 2
Ski Guide Last Degree to North Pole
Scout Overland Traverse to South Pole
Kayak Guide Greece, Santorini and Crete
Awards & Recognition
Alaska Sports Hall of Fame
Life member American Alpine Club
Alaskan of the Year Governor's Award
Sports Illustrated Top 50 Athletes Alaska
Eco-Challenge finisher 10th & 13th place
NPS Denali Pro Pin for Rescue
"Cover Boy" Alaska Magazine
15 year member USHPA (Paragliding)
Producer "Strummit from Summit" CD
Host for Food Network's "Tasting Alaska"
Talent ESPN TV special "Surviving Denali"
Talent for National Geographic "Ultimate Survival Alaska"
*Bio and Resume courtesy of Alpine Ascents.