It was February vacation week in Massachusetts this week which meant everyone from our home state was looking to travel North to climb! We had programs running everyday this week and the weather was classic New England weather. We had snow storms that dropped over a foot of the white fluffy stuff, we had rain and sleet, and we had 40 degree bluebird days.
We had so many successful days out in the mountains, it's hard to choose one to write about here!

The beginning of the week started with pretty normal winter conditions, but as we reached Midweek, we got hammered two days in a row with snowstorms. We still got after it with a bunch of ice climbing courses despite the weather. After all of the snow, we did our community service and broke trail all the way to the top of Mt. Willard. As the week progressed, the forecast was for rain and sleet on Friday. 40 degrees and raining is about the worst conditions as there is no way to stay dry. We went ice climbing anyways! Luckily the worst of the precipitation waited for us to finish our climbing before unleashing the heavy stuff.
Mother Nature must have recognized that we paid our dues by climbing in heavy snow and cold drizzle, and she rewarded us with two picture perfect days to end the week. On Saturday we had a group head up Washington in temps above freezing at the bunkhouse. They reached a point about 30 minutes below the summit to be turned around by hurricane force winds. The following day our Washington crew made the summit with all 7 climbers in another amazing weather day. On that same day myself and Mark led four climbers on Standard Route at Frankenstein cliff. It was a day for the record books! 40 degrees, sunny, plastic ice, and great company!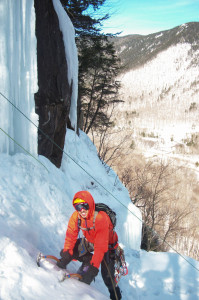 We would like to thank each and every climber who came up to visit us at NEM and who spent their vacation climbing in New Hampshire! We had such a great time regardless of the weather and we are psyched to get back at it on Thursday!