Well this won't be my normal play by play blog post although it may have some of that. This one is about why we (the guides at NEM) do what we do. It's no myth that we all seek happiness in our lives. Some find it in caring for others, some find it tinkering with electronics, or solving problems, or volunteering etc. One way I find it is by sharing the outdoor experience with people who really appreciate it. Getting out in the mountains with folks who really take in the whole experience, ask questions, and fully appreciate every minute of it. Every day we get to watch our climbers come to us with little knowledge of the sport they are about to try and with some tips and some instruction, they progress in leaps and bounds. They get to accomplish something they never thought they could do, or maybe that they were nervous to even try. That is why I love guiding! It doesn't make any difference if I'm on Mt. Washington 30 times/winter or if I climb the same ice route 15 times, our climbers make the trip completely unique to the one before and after. Every experience for me is new and I get to learn a lot from the climbers as well. We also get to meet a TON of awesome people who we can now call friends.

Every day we have multiple groups heading out to do their respective sports (ice climbing, Mt Washington etc). This past Sunday was no different, we had a group of 6 heading up Lions Head with Mike and Mark, Anthony took a couple ice climbing and I also took a pair of climbers to Mt. Willard for their first multi-pitch ice route. The day turned out to be a bit chilly but the winds were manageable and the weather improved by the hour. When we got back to the bunkhouse, the Mt. Washington folks had just returned as well from their successful climb in full on conditions. The general mood in the bunkhouse was of high energy, and good spirits as everyone laughed, joked, and cheered to a successful day in the mountains. 11 of us just hung out and swapped stories from the day. High winds on Washington, 20 minutes spent at a belay station laughing about nothing, -40 degree wind chills, and the horror stories of having to answer the call of nature with a harness on! There is nothing better than hanging out in the bunkhouse after a great day in the mountains and relishing in the environment that only different personalities coming together and the mountains can create! Whether you came from California, Massachusetts, Arizona, or New York City, everyone had a story to tell and there was always an ear open to listen.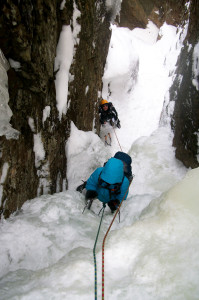 We encourage you to come climb with us and take part in the NEM experience, and to get out there and try something new!