I've been training hard on my local terrain in Massachusetts as well as hitting the White Mountains when I can. Trail running regularly with as much elevation gain and technical terrain as I can get my hands on. I wasn't training for a race. There would be no medal or award ceremony at the end of this. There would only be personal satisfaction and growth as my prize. I've been doing all of this with my eyes set on one thing in particular – Running the Pemigewasset Loop in the White Mountains of New Hampshire again.
It's funny how this came together. I'm usually a "planner". Always laying out my clothes, choosing my snacks, packing my bag the night before, thinking of all the nitty gritty details… Not this time! It was a work night. I was sitting in bed watching TV, Trying to figure out what day to take off from work. What weekend was free? When could I get to the mountains? I'd had enough! I needed to do this spontaneously. Stop thinking, just do it. After briefly checking the weather forecasts, I told my wife I was going for it and wrote an email to my co-workers explaining that I'd be taking a vacation day.
---
What is the Pemigewasset Loop?
Mapping the Pemi Loop.The Pemi Loop is a classic route in the White Mountains of New Hampshire. It hugs the surrounding mountainous ridges of the Pemigewasset Wilderness, traveling up and over eight of the states 48, 4000+ foot peaks. The loop spans approximately 30.5 miles (according to maps) and earns nearly 10,000 feet of elevation gain over its distance. The terrain found along this route is the most diverse you can find in the North East region. Ranging from wet, dark, slippery forest all the way up to rocky, alpine, above tree line exposure. Some of the most rugged trails in the White Mountains can be found along this loop. The route also travels through some of the most remote wilderness in the White Mountains which can be a little daunting for solo travelers. Unlike running a 50K ultra, marathon this route is entirely unsupported other than a single AMC hut at mile 15. Hikers and runners alike need to be prepared for extended time in the wilderness. Backpackers opt to finish the loop over the course of 2 or 3 days. While trail runners, and ambitious hikers attack it in a single push to finish it in one day.
---
The Goal
The last time I had completed the Pemi Loop was in 2015. Back then I only wanted to finish the loop and I didn't really set a time limit for myself. Since then I've covered individual sections of the loop on smaller hikes and trail runs numerous times. I know these trails very well now, much better than I did in 2015. I'm also in much better shape than I was the first time around. I knew I could run the majority of the loop with the exception of the really steep uphills and super technical downhills.
I wanted a challenge. I wanted to complete the loop in under 10 hours. Why? Because… Why not? I'm a goal motivated person. While this isn't a record setting accomplishment, it would be a big deal for me!
---
What I Packed
I decided to pack up in the morning so I wouldn't over analyze what I was bringing. My pack was light and fast. Only the necessities here with a small margin of first aid and emergency gear. My pack weighed 7.6 lbs. fully loaded with food and water. Here's everything I had:
Clothing (worn)
Pack / Storage
Small silnylon stuff suck
2 small zip-lock bags
Electronics
Food Consumed
Water
.6L Hydrapak Flask (for dirty water only)
Clothing (packed)
First Aid / Other
Ibuprofen
Ace Wrap
Alcohol Swabs
Bandages / Gauze / Med Tape
Small roll of Leukotape
Small roll of Duct Tape
Zip ties
Small folding knife
Car Key
ID/Credit Card/Cash
---
Lincoln Woods Trail
I parked at the Lincoln Woods trailhead at 7:30AM. It was a little chilly in the low 40's but I knew it would warm up quick once I started moving. I made some brief conversation with some friendly hikers and a park ranger in the parking lot. I tightened the laces on my shoes and drank some Gatorade that I'd leave in my car for when I returned. I pushed "START" on my watch at exactly 7:45AM while crossing over the Pemigewasset River Bridge. That's when I began my jog down the Lincoln Woods trail. This trail used to be a railroad bed so it's inherently very easy. Nice flat terrain at a slight uphill grade with the occasional railroad tie passing by. Not much to look at here, just lots of hikers and backpackers walking to their respective trailheads to start their own adventures. I passed by at least 4 or 5 groups as I ran down the railroad ties. My first mile went by at an 8:24 pace. I was trying to set a good speed without killing myself too early. I was feeling strong and optimistic.
---
Osseo Trail
After 1.3 Miles I was already banking left onto the Osseo Trail towards Mount Flume. This trail starts off gradual but is much more technical than Lincoln Woods. It weaves through the forest and gains steepness on flowy up and down rolling terrain. I wanted to set a good pace here so I threw on my headphones and tried to go into auto-pilot to crank up the hills. The Osseo trail is notorious for its switchbacks and ladder sections which slowed me down. I was still carrying a 13 min/mile by mile 3 which made me happy and motivated me to power on.
---
Mount Flume
The ladder sections are short but steep and slowed me down considerably. Just before reaching the summit the trail plateaus a bit and allowed me to continue jogging. 1 hour and 12 minutes after starting this run and 5.5 miles in I was standing on the rocky ledges of Mount Flume's Summit. My first peak of the day!
---
Franconia Ridge Trail
Now for the fun stuff! Franconia Ridge is one of my favorite spots in the White Mountains despite how popular it can be on busy weekends. I was lucky, today was a weekday and it was still early. I nearly had the place to myself! I know this trail like the back of my hand as I've ran it and hiked it several times before. The section between Mount Flume and Liberty is a trail runner's dream. Nicely packed out, soft terrain, and plenty of excellent views to keep you stoked while you move.
---
Mount Liberty
Mount Liberty is a little over 1 mile from Flume so about 20 Minutes after crossing over the summit of Flume I was standing on the summit of Mount Liberty. The final push up to the summit of Mount Liberty is a little steep and scrambely but it's very short. At the summit of Liberty I made some conversation with hikers and decided to put some Skratch electrolyte mix in my water flask. I ate some Gatorade gummy's and moved on relatively quickly and continued on the Franconia Ridge trail.
---
Little Haystack
While not technically a "4000 footer", Little Haystack stands 4,760′ tall and represents the first above treeline point from the south on Franconia Ridge. During the climb up Little Haystack my pace slowed considerably and I got into "power hike" mode. This trail isn't overly technical but it is steep and exhausting. I didn't want to burn out too early so I took my time. Now 8 miles (2 hours 13 minutes) into my journey I popped out of the trees onto the loose rocky summit of Little Haystack. Rewarded with incredible views I paused for a short while to take another party of two's picture, and they returned the favor. They cheered me on when I explained my goal for the day. It was a welcome moral boost!
---
Mount Lincoln
The ridgeline from Little Haystack to Lincoln is unreal. Beautiful 360 views while I ran along the narrow Franconia Ridge. I've been on this ridge 9 times before and it's still not getting old. The trail isn't overly technical and it makes for a fun run. I always feel like I'm in some kind of adventure movie when I run here. Mount Lincoln is an easier climb that Little Haystack. Maybe it's because the views are so distracting from the feeling of my lungs collapsing! I crossed over Mount Lincoln's summit and weaved through a hand full of hikers without missing a stride to continue on to the final peak of Franconia Ridge.
---
Mount Lafayette
After crossing over Lincoln the trail drops considerable elevation and falls back into a small patch of vegetation and trees before starting up the tallest peak of the day. Mount Lafayette standing 5,249′ feet in elevation is the 6th tallest peak in New Hampshire. I switched back into power hike mode. Lunging up the large granite slab steps. Nearing the summit the trail steepens again and gets a little scrambly. Climbing over large boulders and using my hands and feet to get up and over obstacles. Now at mile 9.9 (2 hours 47 minutes) I was standing on the summit of Mount Lafayette. This would be the 8th time I've stood on this summit! For me, this represents the point of no return. I could bail out here using the Old Bridal Path and run the bike path back to my car, or I could continue on. However, I was still feeling very strong and without hesitation moved on. Lafayette was awesome, but I knew that "the hard part" was coming!
---
Garfield Ridge Trail
The descent down the north side of Lafayette slowed me down again. This steep descent is terribly technical with lots of loose rocks and debris. At one point I slipped over a large rock that became dislodged from the pile and started plummeting down the hill. I yelled to anyone down below "ROCK!" luckily no one was there to catch it.
This was the moment I'd been dreading… Garfield Ridge Trail. Once down from Lafayette I was back in the trees. Garfield Ridge Trail is technical, wet, and contains several ups and downs that would go on for nearly 8 miles. The first section is pretty tame but changed rapidly as I approached the ascent to Mount Garfield.
This steep section is riddled with large loose boulders that made running pretty much impossible. I switched gears and dropped back into a slow, steady hiking pace. A couple hikers passed by "Good Luck with that!" they said, referring to the trail head.
---
Mount Garfield
After the relentless climb I finally topped out at the summit of Mount Garfield (4 Hours 2 Minutes). I stopped to catch my breath and ate a Stinger waffle. I drank the last of my water knowing that I'd be able to refill again soon. After leaving the summit the trail quickly descends into the lush forest again. This section of trail is VERY wet. Sections of flowing water cascading down the granite rock pile made for slippery footing. This is about when I arrived at the Garfield watershed spring. I was completely out of water by this point so I stopped to filter and refill. I spent 5 or 6 minutes here to filter water with my Katadyn BeFree filter before continuing on.
Now back uphill! I wasn't moving fast at all. The terrain between Mount Garfield and Galehead is a series of lumpy hills. I was reduced to a steady hiking pace as I started to climb again up towards Galehead Hut. This is when I started to grow concerned about hitting my sub-10 hour goal.
---
Galehead Hut
I finally reached Galehead Hut. I didn't really need water but I figured I should top off one more time and give my legs a short break. This should be enough water to get me all the way back to my car. The Hut was full of campers and day hikers. I got into some conversation about the Pemi Loop and refilled my water. I also ate some Cornbread the AMC Croo had prepared… it was delicious! I stood out in front of the hut and looked over at the final peaks of the day, the Bonds in all their glory.
---
The Twinway
I was off, down more technical descent into the forest! Garfield ridge trail had begun to wear on me. I was growing frustrated by all the ups and downs despite being mentally prepared for it. This section of trail never seems to end.
Finally I approached the last hard climb. The .8 mile ascent of South Twin. This section would be a real test of my will power. My quads begin to cramp so bad I could see them spasm and pulsate. This slowed me down to a crawl. I ate a Gu packet and tried to super-hydrate to fight off the muscle cramps but there was no immediate relief. I crawled up the .8 mile stretch of trail, trying to alternate which leg I used to make the next big stride as not to make the cramps worse. Every so often I'd have to stop completely to let the cramps subside a bit. This would prove to be the hardest part of the day.
---
South Twin
When I finally rounded the corner and saw the summit of South Twin I let out a huge sigh of relief. Out loud I said to myself "Yes! The hard part is over!". I knew the terrain ahead would be much easier and I'd be able to recover from my leg cramps here. I looked at my watch and did the math to figure out how fast I'd need to move to hit my sub-10 hour goal.
I didn't stay on South Twin's summit long and started my way down the Twinway towards Mount Guyot. This trail was a welcome sight. Even though it was pretty technical it paled in comparison to Garfield Ridge Trail. I worked my way back up to a jogging pace and continued around the base of Guyot. This section of trail is beautiful, the trail hugs the hillside and looks into the Pemi Wilderness over at Owls Head. Couldn't help but stop a few times here to take pictures.
---
The Bondcliff Trail
There was only one substantial climb left now. Getting from the low point near Guyot to the summit of Mount Bond. I kept sipping water to stave off any cramps and tried to sustain a jogging pace. As the hill steepened I ate some energy chews and switched into a fast paced hike. This trail isn't really technical but it can wear you out after a long day. I still had substantial mileage left and didn't want to completely bonk out here.
---
Mount Bond and Bondcliff
I reached the summit of Mount Bond and looked over at my final obstacle, Bondcliff! With little hesitation I moved on. Bondcliff is one of my favorite placed in the white mountains. It's huge rocky ledges are iconic. Pictures can't convey just how beautiful this area is. I couldn't help myself as I descended Mount Bond. I took about 50 pictures of Bondcliff from here. It slowed me down, but hey… It was worth it!
The climb up to Bondcliff is relatively tame and very beautiful. This would be the last time I'd be walking uphill all day! When I reached the summit of Bondcliff I took in one final view of the Pemigewasset Wilderness. The view from up here is unmatched. Looking over at Franconia Ridge in the distance it's amazing to think I was just there a few hours ago.
I hustled on down the Bondcliff trail through the short easy scrambles near treeline. The Bondcliff trail isn't very technical and I knew it was my opportunity to make up time. I looked at my watch here 7 Hours 30 Minutes in. It looked promising that I'd hit my sub-10 hour goal but I didn't want to take any chances. I picked up the pace again and began to run the descent where I could.
---
Lincoln Woods Run Out
I grew excited when I saw the Bondcliff Trail Head sign in the distance. Now I was back on the flat, railroad bed of the Lincoln Woods trail. This trail is easy, but it would take all of the energy I had left to sustain a running pace out of here. I had 5 miles of flat, uneventful trail left to finish this off. It was time to dig deep and muster up all of the energy I had left. I ate a stinger waffle and drank almost all of the water I had left in my hydration reservoir. I started to run.
My goal was to sustain a 10 minute pace run for the final 5 mile stretch. On any other day a 10 minute pace would be easy. But after the 25 grueling miles I had just endured it would be a tremendous challenge. My feet hurt, my calves hurt, my hamstrings hurt, my core hurt. Stride after stride I kept looking at my watch to see what progress I had made. I put my headphones back on and started to play some music. "Move" by Saint Motel was on. I tried to stride to the rhythm of the song and stop looking at my watch. I tried to forget how much everything hurt. "Stop focusing on the finish and just run" I kept saying to myself.
Soon, obvious tourists from the Lincoln Woods parking lot started to appear on the trail. Dogs, strollers, jeans, bicycles, etc… A welcome sight! I knew this meant I was close. I rounded the final curves of the Lincoln Woods Trail and saw the bridge ahead that I had started my day on. I was so excited that I started sprinting the final 200 feet or so. Once I set foot on the bridge I looked down at my watch…
---
9 Hours and 23 Minutes! I Did it!
---
Splits
Osseo Turn Off – 12:04
Flume – 1:13
Liberty – 1:37
Little Haystack – 2:12
Lincoln – 2:30
Lafayette – 2:48
Garfield – 4:06
Galehead hut – 5:23
South Twin – 5:59
Bond – 6:58
Bondcliff – 7:29
Bondcliff TH – 8:34
Finish – 9:23
---
Stats
At the end of the day my GPS track shows 31.2 Miles and 9400 feet of elevation gain.
---
Strava Activity
---
Summary
I am really happy with this effort. The training I've been doing has paid off and I'm stronger than I've ever been. I hit my goal and set a personal record. Not bad for this old dad bod! My hydration and food intake also went well keeping me energized. Despite being happy with how the day turned out I think there are a few things I could have done better or quicker:
I took too many pictures – 30 seconds here, and there adds up. I can't help myself no matter how many times I'm on these peaks I'll continue to take TONS of pictures.
Galhead Hut time suck – I didn't really need to stop here. I had enough water from filtering to get my out I think. I ended up chatting and eating at the hut which ended up eating up considerable time.
Salt tabs! – Next time I'll bring some. The cramping in my legs on the Twinway destroyed my pace. If I had S-Tabs I might have had a chance to recover quicker and continue faster.
All in all it was an amazing day in the mountains and I'm happy I got to challenge myself on this loop again!
About The Author
Dave Dillon
The mountains have become a source of inspiration, physical challenge, fitness, motivation, and enrichment for me. I get so much from being outside and breathing fresh mountain air that words cannot describe it. I love introducing people to this other type of lifestyle. I'm excited for my sons to get older so they can enjoy it with me.
BRAND AMBASSADORS
Calling all talented writers, photographers and creatives with a passion for the outdoors to join our Brand Ambassador Team.
CONTACT US TO GET STARTED
Joshua Tree National Park
In Southern California, at the meeting point of the Colorado and Mohave ecosystems lies Joshua Tree National Park. Many people, especially on the Instagram community expressed an unequalled love for it and the mentioned the magical light there. Despite the lofty build up, I didn't quite understand the attraction. It was likely an empty desert, afterall. Much to my surprise, I was completely wrong.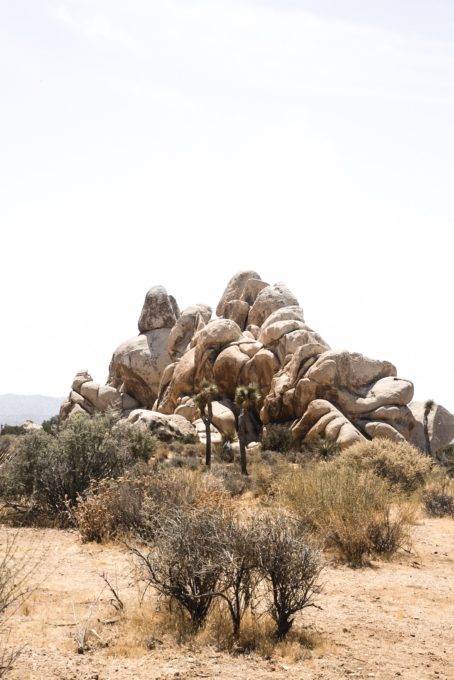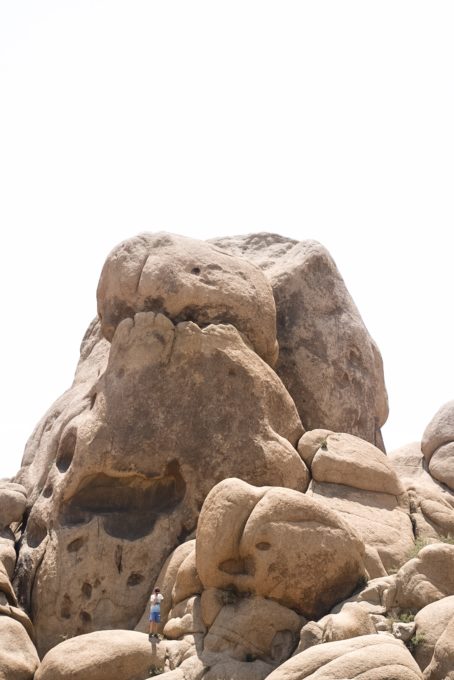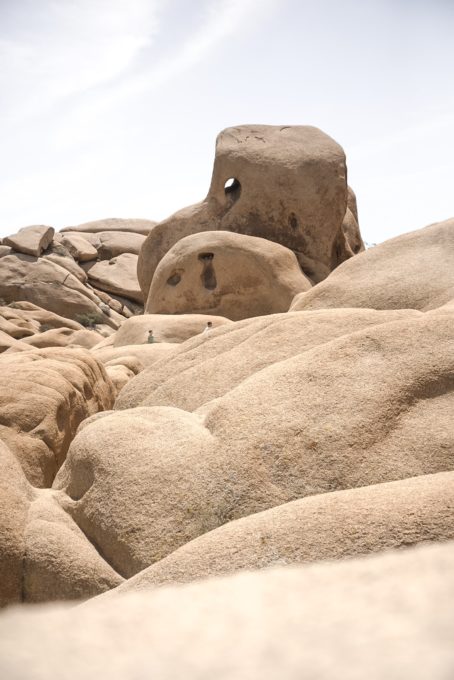 As soon as we drove through the entrance, I saw the boulder fields. I almost forgot about my fear of encountering rattlesnakes because I envisioned spending hours scrambling over those massive errant rocks. I could've spent all day doing just that, and almost did. I knew that I only had one meager day in the park and wanted to capitalize on my short visit despite the soaring thermometer, expected to reach 100 degrees that day. After sufficiently getting in my dose of scrambling, driving around to different points of the park with known viewing sections, it was already about time to figure out where I wanted to watch the sunset.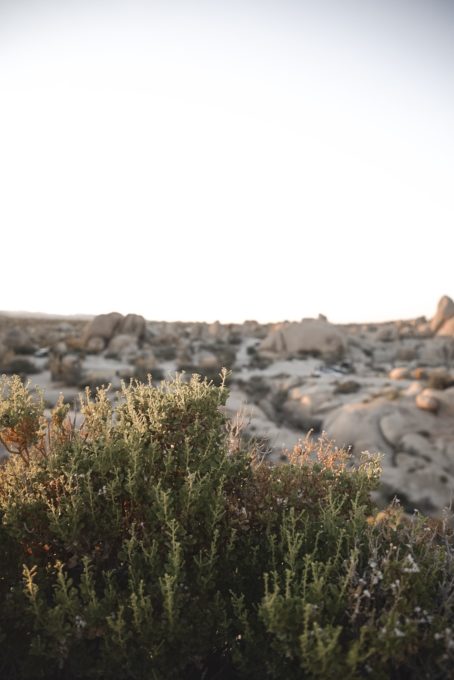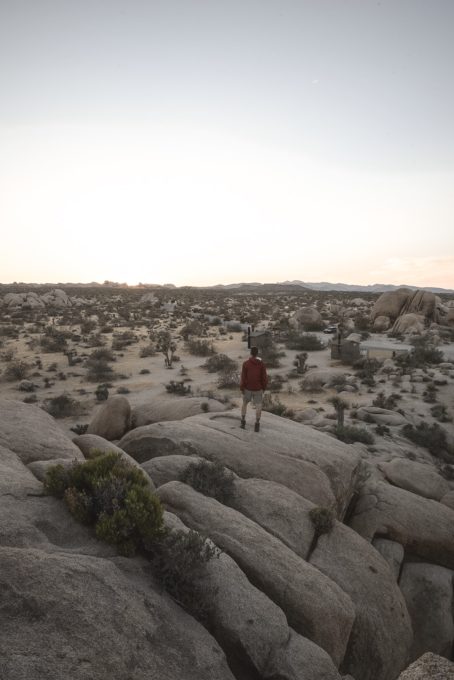 After scanning the horizon, I settled for an arbitrary boulder field where I could get to some higher rocks. As the sun slowly began to diminish, it was suddenly apparent I would witness that magical light so loved by so many here. The term "cotton-candy skies" doesn't begin to do it justice. I spent what seemed like forever up on those boulders, not minding for a second the consistent howl of the wind against my jacket.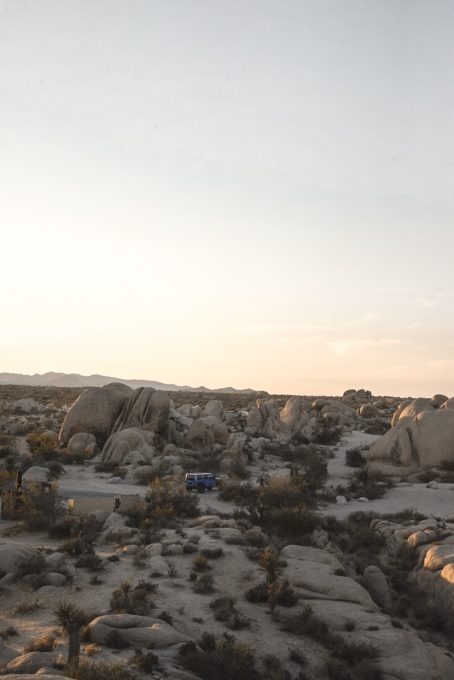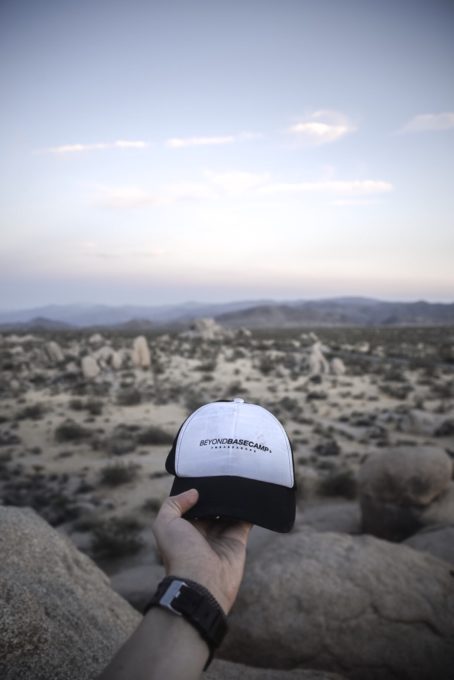 When I finally came down, there was only one obvious thing left to do: shoot the Milky Way. Joshua Tree is quite famous for presenting opportunities to capture the stars. Driving around from parking lot to parking lot, I settled on the still-hot pavement, with my tripod setup, and my long exposure settings on my camera in place. I had already taken numerous exposures of the Milky Way, which was apparent even to the naked eye. Right before packing up to go, around 11:30 p.m., out of the corner of my eye, I caught sight of a strange colored-glow start to rise. As I looked closer, I realized it was the moon. The news had reported about twelve different wildfires in the nearby area, which was the only logical explanation I could come to that would cause the moon to be hazy. This combined with the clear view of the stars immediately left me speechless. I set my camera to a self-timer and ran out in front about 15 different times to add some scale and get myself center with the quickly rising moon. Even now, I can't exactly believe what I saw. It was unlike anything I had seen before and has become one of my fondest memories.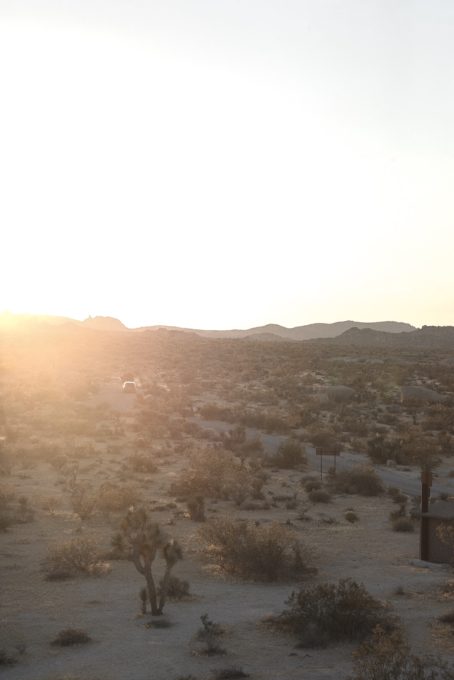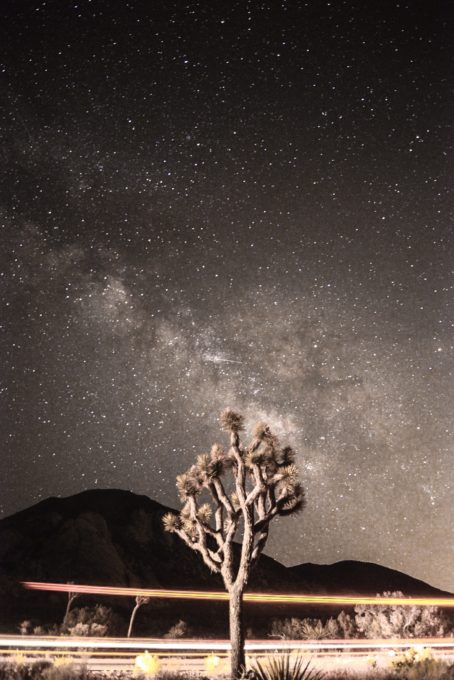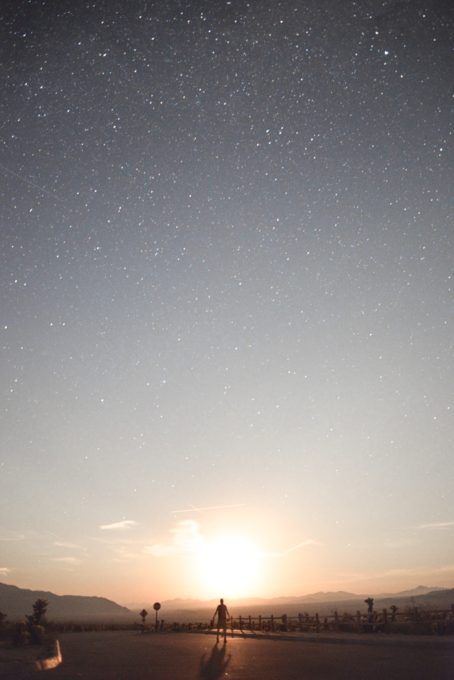 BRAND AMBASSADORS
Calling all talented writers, photographers and creatives with a passion for the outdoors to join our Brand Ambassador Team.
CONTACT US TO GET STARTED
---
About The Author
Corey McMullen
I'm a 25 year old photographer and avid hiker based out of Massachusetts. I've only very recently taken up photography, but having been a hiker all my life, I've quickly discovered how much I enjoy documenting the lifestyle that comes with spending time outdoors. Some of my favorite adventures always include the White Mountains of New Hampshire, camping overnight, waking up for a sunrise hike, and of course, a good group of friends to share the experience with. 
Instagram: @coreyoutdoors
---
Rocky Mountain National Park
In delving into a new endeavor and into the unknown or unfamiliar, we create an opportunity to become a vessel for learning. This July I took a month off from work and embarked on a road trip to go visit several National Parks out west. I had never been to any of the National Parks in that area except for Rocky Mountain NP in Colorado once before briefly. My well-stacked itinerary included Rocky Mountain NP, Zion NP, Bryce Canyon NP, Joshua Tree NP, Sequoia and Kings Canyon NP, Yosemite NP, Crater Lake NP, Capitol Reef NP, and Arches NP. The prospect of new landscapes, new terrain, and the chance to flex my photography skills with new subject matter was thrilling. As an east coast native, I was headed into terra incognita.

Continue reading →